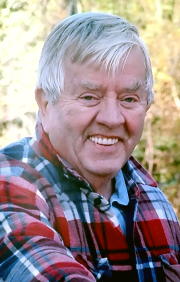 Roy Morris Jr., age 94, formerly of Cox's Mills and Normantown WV, went to be with his Lord and Savior, Jesus Christ on Sunday October 27, 2019 where he had been living with his daughter at her residence in Ranger, Georgia.

Roy was born August 28, 1925 in Marietta, Ohio, the son of Roy Morris and Mary Gladys Preston Morris.

Roy served in the United States Army and the Korean War in 1955 to 1957.

In 1959 Roy met the love of his life at a bakery, in Belpre OH. On June 11th of that year he was united in marriage and enjoyed 59 years of marriage to his wonderful wife, Lulu Elaine Sprouse Morris, who preceded him in death on Nov. 29, 2018.

Roy will be remembered by several grandchildren, nieces and nephews as the one always playing with them in the yard, showing them tricks, letting kids walk on his feet, throwing his keys in his back pocket after throwing them straight in the air, and passing the ball with them. We will always remember the saying, you shook the hand that shook the hand that shook the hand, which his great grandchildren in Georgia changed to "I SHOOK THE MANS HAND" which brought him pure joy. You will remember the fast draw of his pistol (finger) and him blowing on it before you could even draw yours, and all the other tricks he had up his sleeve. Roy loved people and life and coca cola, and always had a smile on his face with everyone he ever met. He loved his wife Elaine dearly and enjoyed galavanting around with her during their senior years.

Roy was a Baptist by faith and member of the Dawson Baptist Church. His one desire in life was to see his loved ones saved by our Lord Jesus Christ.

In his spare time, Roy enjoyed reading, writing songs and poems, drawing, playing horseshoes, swimming, fishing, spending time with his family and friends, and spoiling his grandchildren and great grandchildren whenever possible.

Surviving are 3 daughters, Mary Frye and husband Tony of Cox's Mills WV, Rhonda Roland and husband Jeff of Ranger GA, and Stephanie James and husband Doug of Roanoke WV; 15 grandchildren, Michelle Greenwood (Adam) of Snellville GA, Ronald Lee Morris of Loganville GA, Melissa Ulysse (Josue) of Lawrenceville GA, Heather Murphy of Fairmount GA and Haley Murphy of Calhoun GA, Kirk Murphy of NY, Dustin Murphy (Carrie) of Ball Ground GA, David Frye and Brandi Frye of Cox's Mills, Rob James of Roanoke WV, Shirania James and Samantha Sevcik of Weston WV, and Alex, John and Kira James of Roanoke WV; and 11 great-grandchildren, Ethan, Alex, Jamie Greenwood all of Snellville GA, LJ, Jasmine, and Miah of Lawrenceville GA, Rowen and Eden Murphy of Talking Rock GA, Lula Kernea, and Wyatt Murphy of Calhoun GA, Laurel Murphy of Ball Ground GA, and Craig James of Roanoke WV; his sister Marty Morris and sister-in-law Shirley Morris of Marietta OH; numerous nieces, nephews, cousins, great nieces, great nephews, and other family and friends, all of whom he loved very much.

Along with his parents and wife, Roy is preceded in death by 2 sons, Scott Edgar and Ronald Lee Morris; brothers Karl, Richard (Dick), Elmer and Dave Morris; and sisters, Sarah "Libby" Sprague, Doris Ann Morris, and Letitia Campmier.

A funeral service will be conducted at the Ellyson Mortuary, Inc. 2 Vanhorn Drive, Glenville WV at 11:00 a.m. Wednesday, October 30, 2019 with Elder Mike Richardson officiating. Burial will follow in the Turner Cemetery near Lockney WV. Friends will be received from 5-8 p.m. Tuesday evening at the mortuary in Glenville.

Ellyson Mortuary, Inc is honored to assist the family of Roy Morris Jr. with arrangements.