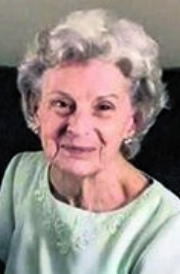 Doris Rae (Fogle) Nicholas, 89, of Dunbar WV, went home to be with the Lord on Sunday, September 29, 2019.

She was born on December 22, 1929, in Grantsville WV to the late Linn and Nelle Fogle.

Doris has been a member of the Dunbar First Baptist Church since 1965, where she served as a deaconess. Her life was totally devoted to caring for her children and family.

In addition to her parents, she was preceded in death by her husband of 59 years, Nyle Nicholas; daughter, Karen Nicholas Fisher; sister, Eileen George; and great-grandson, Jacob Nicholas.

She is survived by her children, Linda Smyser (Michael) of Aldie VA, Stephen Nicholas (Starr) of North VA, and Jeffrey Nicholas (Brenda) of St. Albans WV; sister, Macel O'Brien of Garland TX; Doris was a cherished grandmother and great-grandmother of 26.

A funeral service was held Thursday, October 3, at Dunbar First Baptist Church, Dunbar, with Pastor David Kenney officiating. A private family burial will follow in Bethlehem Cemetery, Grantsville.

In lieu of flowers, donations can be made to Dunbar First Baptist Church, 311 16th Street, Dunbar, WV 25064.

Arrangements were in the care of Keller Funeral Home, Dunbar.