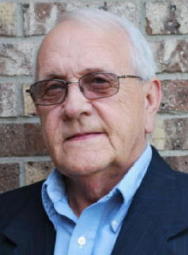 God had a need for another artist in heaven when he called Larry McCallister home.

Larry was 75 years old and lived at Mt. Zion, Calhoun County until moving to Washington, WV several years ago. He passed suddenly on Wednesday, October 9, at WVU Medicine Camden Clark surrounded by family and loved ones.

Larry was employed in the coal mining and pipeline industries and used his many talents while employed at Colony House Wood Products, as a teacher at Calhoun County High School, Concerted Services (a federally funded WV pilot project), Calhoun County Extension Agent (where he enjoyed being a counselor at 4-H camp), BF Goodrich, County Clerk's office and retired from Minnie Hamilton Health System.

Larry served in the US Army. He loved the people of Calhoun County and thoroughly enjoyed serving them as County Commissioner for 12 years.

Larry was an active member of numerous community organizations. He served as an appointed member of Volunteer WV for several terms. He was a 50 year member of Eureka Lodge #40 and a member of the Director's Staff and the Nemesis Shrine in Parkersburg.

He enjoyed a variety of leisure activities including; WVU football and basketball, Cincinnati Bearcat football, feeding the birds, gardening, playing the drums in his college band, photography and driving children to the Shriner's Hospital. He was an avid fly fisherman, an extraordinary artist, loved a good story and the perfectly timed joke.

Larry published his book, WV Courthouses, which includes his pen and ink drawings of all 55 county courthouses. The original of each of the county courthouses is framed and proudly displayed at the WV Department of Arts, Culture and History in Charleston WV.

Larry is survived by his wife of 53 years, Cheryl, daughters Stacy Crook (Ron) and Kari Lowe (Mitch). He adored his six grandchildren, Taylor Stoneking (Casey), Trey Crank, Andrew Crook, Maia Dailey, Cian Crook, Kenley Crook, along with several nieces and nephews.

He was preceded in death by his parents Okey and Rosa (Hager) McCallister, and his siblings Carol Campbell, Margaret Smith and Bob McCallister.

A Celebration of Life will be held on Sunday, October 13, at 3:30pm at the Nemesis Shrine Center at 244 Watson Road, Parkersburg, WV with Pastor Joe Law and Jason Snyder officiating.

In lieu of flowers, the family requests any donations in his honor be sent to Nemesis Shrine at 244 Watson Road, Parkersburg, WV 26104.