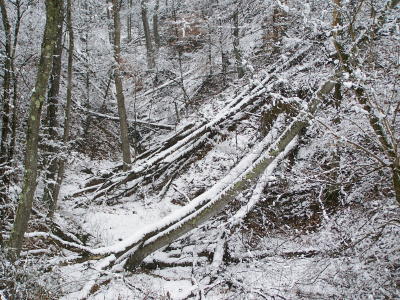 Trees still block hollows and access to many
parts of Calhoun woods following 2003 ice storm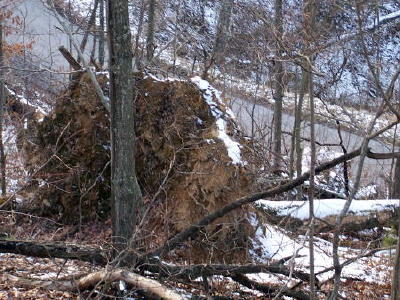 Large oaks and giant pines fell, leaving roots exposed
By Bob Weaver
Much of Calhoun's forested land was nuked by an ice storm 19 years ago, a major wallop that struck the region, downing tens of thousands of trees and damaging 50,000 acres in the county.
Calhoun was the third worst of 13 counties struck in 2003.
The county is among the most forested in the state, covered by 90% woodland.
Eighteen years later, there are slowly decaying remains of the storm.
Retired Calhoun highway administrator Glen Hanlin said "The ice storm was a true challenge," during his tenure in the position.
Most every Calhoun resident has a fascinating story about the ice disaster, the cracking and falling of the timber for at least two days, unable to access many wooded areas, in addition to being without power and phone for seven to ten days.
"It's the worst natural disaster related to the forest I have experienced in my lifetime," said forester Russ Richardson, the damage easily visible by satellite.
"Besides many landowners underselling their timber after the storm," Richardson said, "The worst thing has been the rapid expansion of stilt-grass on areas that have been opened to sunlight."
Since the surge of stilt grass, there appears to a dying-off of the menance "The forest and water are the lifeblood of human existence," he said.
Neighbors and Calhoun's responders came to the front in removing trees from highways and helping people in need.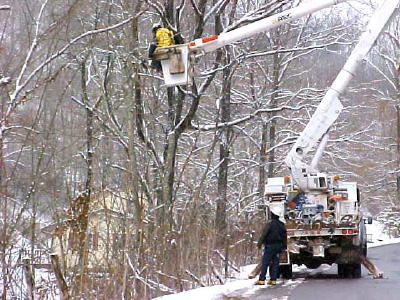 More crews shifted to Calhoun to restore service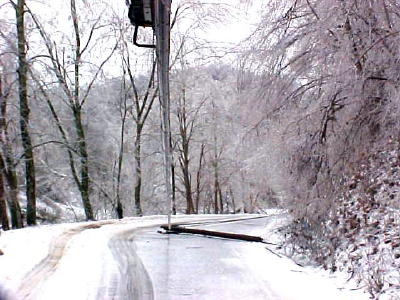 Large phone cable downed near Hur
FLASHBACK: THE GREAT ICE STORM OF 2003
(Hur Herald Photos)