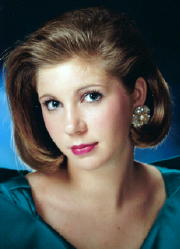 Julie R. Ellyson Chapman, age 42 of Glenville WV, was welcomed with open arms by her Lord and mother Linda at 4:15 a.m. Thursday September 19, 2019 at the Genesis Health Care, Glenville Center following a long but courageous battle with Huntington's Disease.

She was born June 1, 1977 in Buckhannon WV, daughter of Gary R. Ellyson and wife Sandy of Pineville WV, and the late Linda James Ellyson.

Julie is a graduate of Lewis County High School, class of 1995 and a graduate of Glenville State College, class of 2000. During Julie's short life before her illness, she was a hostess at Applebee's and Outback Steakhouse in Clarksburg. She enjoyed working at both restaurants and never met a stranger.

Her teenage years would find her on the West Virginia pageant circuit, where she always placed in the top slots and in 1992 she became Miss West Virginia Perfect Teen, where she competed in the national competition in Myrtle Beach SC, and placed in the top 5 out of 50 states. In 1995 she became Miss West Virginia Teen World and traveled to Palm Springs CA, where she placed in the top 10.

Julie was very active and enjoyed doing community service. She had a section of road for the "Adopt a Highway" program, she routinely donated her time to American Heart Association, and you could find her during the holiday season with a bell in her hand for the Salvation Army.

When she was able, Julie was a career shopper who also enjoyed football, camping, concerts, theatre and NASCAR. She was a big time Dale Earnhardt and Dale Earnhardt Jr. fan and was always excited for the Christmas season. Julie's true love in life was her son Jacob. She was always proud of him, even when she couldn't express it herself.

On July 24, 2002 Julie was united in marriage to Donald Duane Chapman and of this union, one son was blessed to them, Jacob Duane Chapman who survives at their Glenville home.

Along with her husband, son, and father, Julie is survived by 1 brother, Scott Ellyson of Denver CO; 1 uncle, Terry L. Ellyson and wife Denise of Glenville, and 2 aunts, Patty Belt Collins of Weston WV; and Carolyn James of Good Hope WV.

Julie was one of the "elite three cousins" who could not have been any closer if they had been sister and brothers. As the plaque at Mamaw's house read "They can at Grandma and Grandpa's".

Also surviving are 2 special cousins, Lee Ellyson and wife Wakasa of Glenville and Joey Ellyson and companion Tina of Weston; and a host of other wonderful family and friends.

Beyond her mother Linda, Julie is preceded in death by paternal grandparents, Ralph C. and Boneva Bea Davis Ellyson and maternal grandparents, Freddie and Geneva Snyder James; and 2 uncles, Carl James and Edwin P. Ellyson.

A funeral service will be conducted at the Ellyson Mortuary, Inc. 2 Vanhorn Drive, Glenville WV at 11:00 a.m. Wednesday, September 25, 2019 with Pastor Bryan Groves officiating. Burial will follow in the Stalnaker Cemetery in Glenville. Friends will be received from 5-7 p.m. Tuesday evening at the mortuary in Glenville.

In lieu of flowers, the family of Julie Ellyson is requesting that you remember her kind heart and pleasant smile when making memorial contributions in her honor to the Huntington's Disease Society of America, 505 Eighth Ave. Suite 902, New York, NY. 10018.