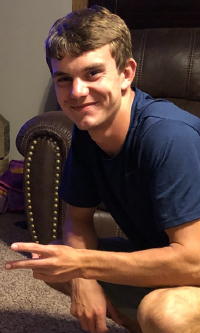 Alexander Jackson "Alex" Miller, 17, of Spencer, West Virginia died suddenly and unexpectedly Friday, September 13, 2019 on the football field in Clay County, West Virginia.

Alex was born January 6, 2002 in Spencer, a son of Sean and April Blankenship Miller. He was a senior at Roane County High School where he was a member of the football team among other things. He loved life and his family and friends and playing his guitar. He was a devout Christian and a member of the Boggs Fork Community Church and the Boggs Fork Youth Group.

In addition to his parents, Alex is survived by two younger sisters, Abby and Bree Miller; paternal grandparents, Jackie and Warren Starcher and Wayne and Dee Dee Miller; maternal grandparents, Mike and Janet Blankenship; paternal great-grandparents, Jack, who was his best friend, and Doris Lemaster; maternal great-grandmother, Edith Neiding; one aunt, Amy (Edward) Patton; two uncles, Derek Miller and Michael Blankenship; and several other extended family members.

Alex's funeral services will be held Saturday, September 21, 2019 at 4:00 p.m. at the Roane County High School with Pastor Russell Stump officiating. Visiting hours will be from 11:00 a.m. until time of the service at the high school. After the service the body will be cremated with burial of his ashes taking place at a later date in the Short Cemetery, Boggs Fork.

TAYLOR-VANDALE FUNERAL HOME, 206 Beauty Street, Spencer, is in charge of arrangements.

In lieu of flowers, family requests donations to the scholarship fund for Alex. Make checks payable to the Miller Family, c/o Principal Bill Heis, 1 Raider Way, Spencer, WV 25276.