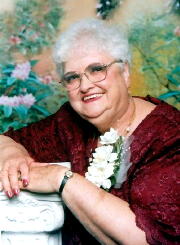 Betty H. Hochadel, age 86 of Glenville WV, formerly of Elyria, OH, departed this earthly life at 4:01 a.m. Sunday, August 25, 2019 at the River Oaks Nursing Home in Nutter Fort WV, where she chose to spend the last six weeks of her life.

She was born May 18, 1933 in Doddridge County WV, daughter of the late Lloyd and Mary Spur Demastus.

Betty returned to Glenville in 2007 after she spent most of her life in Elyria. She worked as a switchboard operator for E.L. Roberts Answering Service. Then in 2007 she retired from Berg Bail Bonding Company where she used to laugh and say I recycle criminals. In her spare time Betty enjoyed coloring, word search, reading, game shows on TV, catching up on all things with Facebook, and she was a diehard Cleveland Browns fan.

In the spring of 1978, Betty was united in marriage to Frank Hochadel, who preceded her in death on July 18, 2006.

Surviving are 5 children, Mary Kelley of Rancho Cordova CA, John Rowh Jr. of Luverne ND, Michael E. Rowh and wife Linda of Parkersburg WV, Cindy Carter and husband Charles of North Olmstead OH, and Kim Heater and husband Johnie of Glenville, whom she spent the last 12 years with.

Also surviving are 2 sisters, Agnes Becthol of Coshocton OH, and Orpha Swiger of Clarksburg WV; 18 grandchildren; 40 great-grandchildren, 6 great great-grandchildren, and a host of other wonderful family and friends.

Along with her parents and husband, Betty is preceded in death by her son, Joseph Rowh, 2 brothers, James and Donald Demastus, 2 sisters, Ella Stewart and Mildred Dotson, and previous husband John T. Rowh, Sr. father of her children.

A funeral service will be conducted at the Ellyson Mortuary Inc, 2 Vanhorn Drive, Glenville, WV at 6:00 p.m. Friday, August 30, 2019 with Pastor Bryan Groves officiating and after services, Betty's request for cremation will be honored. Friends will be received from 12:00-noon to 6:00 p.m. Friday at the mortuary in Glenville.

Ellyson Mortuary Inc is honored to assist the family of Betty H. Hochadel with arrangements.