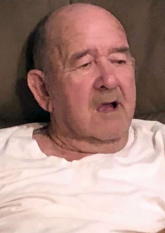 James Stull 76, of Elizabeth WV, passed away Saturday, August 17, 2019.

He was born April 29, 1943, the son of the late Gene Lipscomb and Elsie Stull Lipscomb. He retired from Ryder Truck Rental of Parkersburg and with his wife, Dot, was the owner of J & S Auto of Elizabeth, WV.

He enjoyed working on his farm, had a love for all animals, enjoyed spending time with his grandchildren, NASCAR racing, was always willing to help a friend in need and watching Western movies.

He is survived by his wife of 55 years Doshia "Dot" Stull; children Cindy Means (Rand Hart) of Elizabeth, Charles Shane Stull (Melissa) of North Carolina, son-in-law Homer "Eddy" Means of Elizabeth; grandchildren Talisha (Terry), Theresa, Samual (Kelsie), Shawne, Nathaniel (Traci), Levi, Desiree, and Newt; great grandchildren Shaylie, Alexis, Austin, Skylie, Wyatt, Braylon and Joel; brothers Mike Lipscomb (Denise) of Kentucky and Jennings Lipscomb (Debbie) of Sandyville WV and several nieces and nephews.

In addition to his parents, he was preceded in death by a brother Jerry Lipscomb.

Visitation will be Tuesday, August 20, from 4 to 8 p.m. at Matheny Whited Funeral Home, Elizabeth WV, and 1 hour prior to the funeral, Wednesday, August 21, at 2 p.m. Burial will be at Sunset Memorial Gardens, Parkersburg WV.