WHEELER WAYNE HAS DIED AT AGE 99 IN MAY, 2021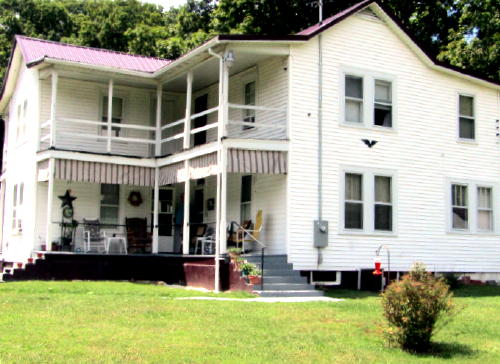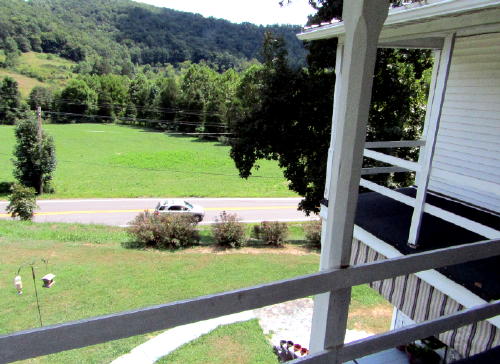 Stately Howard Knotts house at Minnora recalls early Calhoun settlers
By Bob Weaver
The early 1800 Knotts-Wayne families are among Calhoun earlycomers, breathing life into southern Calhoun.
Earliest settler Joseph Knotts (1806-1855) was a member of the Gilmer Co. Court and was married to Mary "Polly" Arnold, building a cabin near Minnora, where they operated the first post office. They are buried at the Prudence Chapel (Minnora) Cemetery.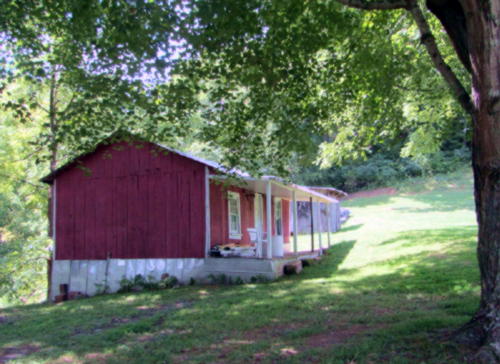 The earlier Howard Knotts house sits behind the 1912 structure
Another early settler was Tunice (Tunis) Mucklewain (1773-1851) and Catherine Propst Mucklewain (1772-1849), whose name was shortened to Wayne, they rest in the Winner-Ball Cemetery below Altizer, then most of the family settled in the greater Beech community.
See   EARLY COMER TUNICE MUCKLEWAIN RESTS ALONG LOWER WEST FORK - Descendants Calhoun's Wayne Family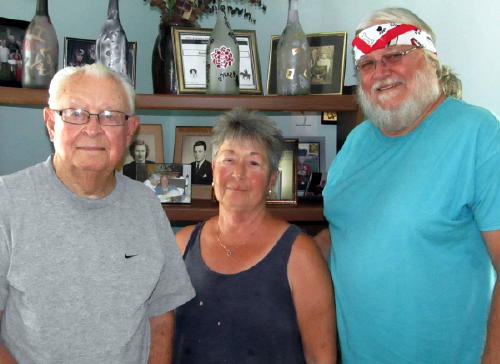 Wheeler Wayne, Donna and Michael Lee Wayne maintain old homestead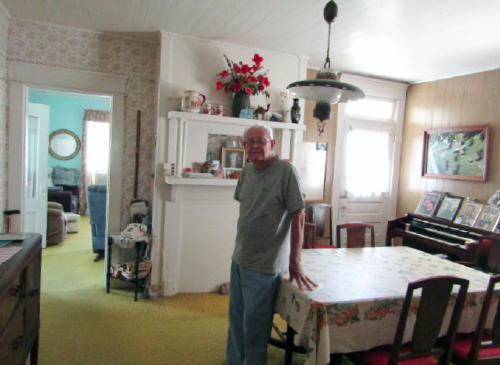 Wayne says old house is a historic reminder
The stately Howard Knotts (1885-1974) house, one of several Knotts houses in Washington District, rests above Rt. 16 across the West Fork of the Little Kanawha from the Prudence Chapel (Minnora) Cemetery where a monument reminds visitors of early-comer Joseph Knotts. Next door, still barely standing, is the home Minnora Knotts Proudfoot who lived to 103.
See Also   OVER 150 YEARS AGO: GRAND OLD LADY MINNORA KNOTTS PROUDFOOT - Life Through The Civil War, "We Saved Our Cat And Mother's Side Saddle"
And   "PATHS OF GLORY LEAD BUT TO THE GRAVE" - Ms. Prudence's Burial Ground Of Calhoun Pioneers
Howard Knotts married Vena Westfall (1889-?) in 1908, first building a small two-room house, still standing next to the two-story homestead, with porches on both floors overlooking Route 16 and the West Fork, and at least four bedrooms. They had seven children.
The house rests on what was originally about 350 acres. Nearby was a small two-room house occupied by the Knotts family, still standing.
Since the 1970s the homestead built by the Knotts' has been occupied by Wheeler Wayne and his descendant wife Berdine Knotts, who has passed.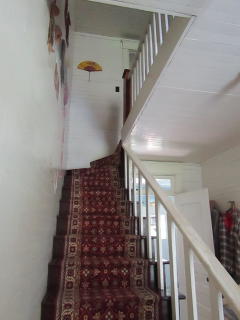 The house breathes similar life of many country homes, with high ceilings and multiple rooms, decorated with family keepsakes and photos.
In the 21st Century, the well-kept house has been maintained by 97-year-old Wheeler Wayne, after the passing of his wife, along with his son Michael Lee and wife Donna Elliott Wayne.
"I am reminded of our great family history everyday living here," said the oldster, whose mind is still keen recalling names and dates.
He recalled his brother-in-law Eucle Knotts, once called the "Calhoun Catbird," who lived nearby, dying at age 102.
See   CALHOUN 'CATBIRD' EUCLE KNOTTS DIED AT 102
Perhaps the site of the house allowed to spot all the travelers going up and down the West Fork, its horses and buggies, long before Rt. 16 was a paved highway.
Also   CALHOUN'S OLD WAYNE CEMETERY - Memories, Deeds, Tears And Glories