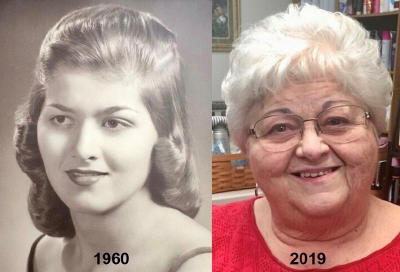 Celebration of the Amazing and
Impactful Life of Roylene A. Moore
Roylene Ann (Alberts) Moore 76, of Spencer, WV went on to be with our Lord in the early morning of July 28, 2019. She was born in Charleston, WV on October 16, 1942, the only daughter of Ida Mae Zinn Alberts Cooper and Arthur Alberts. She spent her early years of education in Spencer, WV, graduating from Spencer High School in 1961 as Salutatorian.
She married Daniel M. Moore December 31, 1960, celebrating their 58th wedding anniversary this past year. They had three sons: Richard D. Moore (1961), Rustin M. Moore (1964) and Roderic E. Moore (1969).
While in high school she was active in band, served as drum majorette and as featured twirler. Roylene was an active swimmer and member of the water ballet team. As a member of the Spencer Chapter of the International Order of the Rainbow for Girls she served in many leadership positions. As an active Thespian she both acted on stage and directed several plays. Her marching, twirling and band leadership helped her to win the "Miss Majorette" award during the 1960 West Virginia Black Walnut Festival Band and Majorette Holiday.
She was employed at State Farm Insurance by Ross Conley and worked there for many years before being recruited to Norris Industries, then Key Oil before working for Keith Chrifield, CPA for a large part of her career. She finished her working career as the President of EnviroProbe, Inc. from 1995-2006 until her retirement. While working a full-time job and raising three young boys, she took college classes at Glenville State College and Parkersburg Community College to further her career and was within a few credits of her degree. However, as was her way, she placed this dream on hold as the needs of her family and others were her priority.
Roylene was active in the community with Eastern Star, directing the Band and Majorette Holiday for the annual Black Walnut Festival, serving as coach for the Spencer Junior High majorettes for many years, and volunteering for many other organizations and activities. She was always involved in the activities of her children and grandchildren. Little league baseball, midget league football, youth wrestling, and the Spencer High School Athletics Boosters were a few of the activities she strongly supported. As many would know, never once did she "yell" at a ref! An avid WVU tailgater, she often stayed up until wee hours of the morning making sure the spread of food was just right for family, friends or those who just walked by and would be invited to enjoy.
Later in life she became a Master Gardner and was active and served in many roles in the Hill & Hollow Garden Club in Spencer, WV. She loved reading, gardening, canning, trying new recipes, decorating the house and yard for Christmas, watching her sons and grandsons in sports and other activities, and in recent years, scrapbooking.
She leaves behind her beloved husband, Daniel M. Moore; three sons, Richard D. Moore (Erica Vineyard) and their sons, Camden, Cole and Caleb Moore; Rustin M. Moore (James Batiste), and Roderic E. Moore (Ronda Welty) and their sons, Aaron Fiddler (BethAnn Williams) and great grandchildren Isla and Oliver Fiddler; Ryan Fiddler (Celia Hodroge); and Sam and Kyle Moore; her brother Stephen A. Alberts (Linda Smith) and their children, Alan, Courtney and Andrea; brother- and sister-in-law, Gary and Katie Roberts Moore and their daughter (Christy Moore Winfield); first-cousins Royden "Roy" S. Zinn, III (Barbara Keith); Paula Zinn Byrd (Richard Byrd); cousin Roger D. Zinn (Elizabeth "Betsy" Fielding); cousin-in-law Linda Zinn (Edeburn); and many nieces/nephews and grandnieces/nephews.
She was preceded in death by her mother, Ida Mae Zinn Alberts Cooper; aunt, Evelyn Law Zinn; father, Arthur Alberts; infant brother John Arthur Alberts; father-in-law and mother-in-law, A. Eugene and Virginia Burgess Moore; maternal uncles and aunts, Royden "Roy" S. Zinn, Jr., Pauline Payne Zinn, and Raymond D. and Mary 'Chris' Mann Zinn; first cousin William 'Harris' Zinn; and nephew, Joshua Michael Alberts.
Based upon her wishes for cremation, a Celebration of Life will be held at the Fellowship Hall at the Holy Redeemer Catholic Church, 602 Parkersburg Rd. in Spencer, WV on Saturday August 10th beginning at 4:00 pm (casual dress, non-denominational celebration, food will be served and a short program with an opportunity for family and friends to share their memories). The family asks please do not send flowers.
Rather, the family suggests that contributions be made in her loving memory to the Roylene A. Moore Living Legacy Scholarship for "Grammy's Kids", which was established because of her love for and commitment to all kids. The scholarship fund has been established through the Roane County College Scholarship Foundation, Inc., and contributions can be made via c/o Paul Hughes, 804 Summit Street, Spencer, WV, 25276. If you have questions about mechanisms to give through the Foundation, please call (304)-927-2319 or email   paul.hughes936@gmail.com