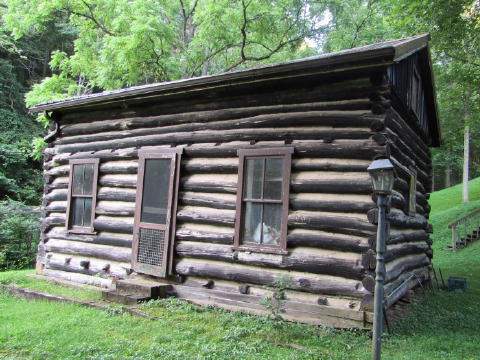 Aging log cabin still stands to tell a story ...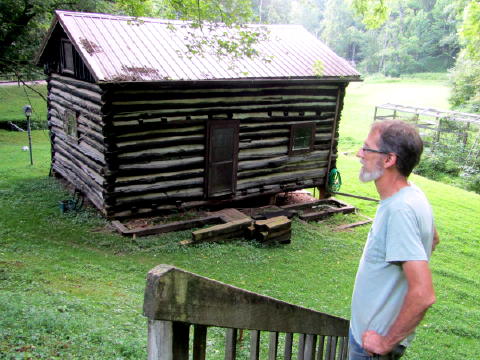 ... owner Marty DeVries is restoring
dwelling to its primitive origins
By Bob Weaver July 2019
This ole log cabin from the early 1900s still has a presence on Richardsonville Road, about two miles from Creston.
The cabin stands on the property of Marty and Linda DeVries, she being a descendant of Calhoun's historic Gibson family. Marty has been restoring the cabin to its primitive origins.
The Lanty Mollohan family says he likely built the cabin to help a homeless, invalid woman. Family members say when the cabin was finished, there was a festive community celebration and dance to mark its completion.
Creston resident Alvin Engleke says that a number of families lived in the dwelling over the years.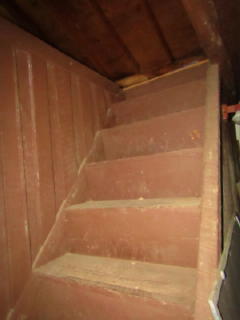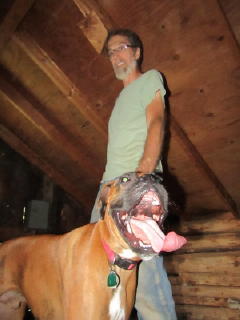 Steps leading to full loft above two room cabin (L)
Marty DeVries and his very gentle dog explore attic
Lanty P. Mollohan died at the age of 103 in 1995, originally coming from Nebo, Clay County and marrying Lura Maude Rogers. For a number of years he and his family lived on Cunningham Ridge between Rowels Run and Little Creek.
Mollohan had ten children, with only one daughter, Bonnie Worstell of Devola, Ohio, surviving.
Lanty built another log cabin for a sister on Little Rowels Run.
His domain on Cunningham Ridge was reportedly taken down and re-erected on upper Rowels Run, to be occupied by James Boyd Duskey, his wife Virgie and family.