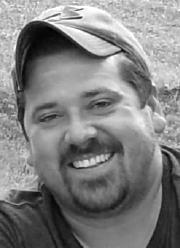 Garry "Michael" Anderson 36, of Elizabeth WV, passed away Thursday July 18, 2019 at Camden Clark Medical Center.

He was born February 6, 1983, in Warren, Ohio the son of Garry and Patricia (Leggett) Anderson.

He graduated from Chalker High School in Southington, Ohio in 2001. while in high school Mike was an awesome football player.

He was the owner of Anderson Concrete of Elizabeth, and enjoyed riding his side by side in his down time from work and spending time with friends and family. Mike had a kind and gentle soul, always willing to help a friend.

He will be dearly missed by his parents; daughter Haylie and son Brandon Anderson and their mother Jennifer Halstead; sister Melissa (Jim) Cunningham; nieces and nephew Zack, Matthew, Stephanie, Mark, Sarah and Rachel; several aunts, uncles, cousins and a host of friends.

he was preceded in death by 1 brother Steven Douglas Anderson; grandparents Virgil and Ruby Leggett and Howard and Faye Shrader.

Services will be 2:00 p.m. Thursday July 25, 2019 at Matheny Whited Funeral Home of Elizabeth WV with Pastor Tim Kemp officiating. Visitation will be 7 to 9 p.m. Wed. July 24, 2019 and one hour prior to the service on Thursday.

Interment will be at Snyder Chapel Cemetery in Calhoun County WV.