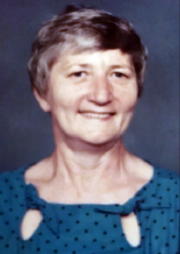 Monsa Jean Sears, 85, formerly of Nicut, WV passed away on September 11, 2018 at Country Side Nursing Home in Palm Harbor, Florida.

She was born in Calhoun County WV, the daughter of Ralph and Arlie Harold Lane.

She was a member of the Beech Grove Baptist Church and a volunteer at the Minnora Mission for many years. Formerly she lived and worked in Fairmont WV where she retired from Owens Illinois Glass Factory before moving back to the home place to care for her brothers.

She is survived by her daughter Donna Jean Logan and two grandsons, Gregory Sears and Billie Roberts and three great-grandchildren. She is also survived by sisters Brenda Davison, Nancy (Bill) Stemple, Ruth Morgan, sister-in-law Francis Lane, and brothers, Howard (Jean) Lane, Denzil (Nancy) Lane, William Paul Lane, Everett "Danny" Lane, Robert "Michael" Lane and Charles (Delores) Lane.

Along with her parents, Jean was preceded in death by three brothers, James Lane, Larry (Bud) Lane and Ronnie Lane.

A memorial service will be held for Jean and her brother Mike on July 5th, at 6:00 p.m. at Beech Grove Baptist Church, Nicut, WV with Pastor Richard Westfall officiating.