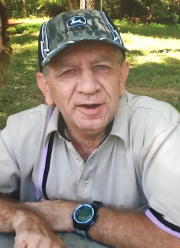 Robert Michael "Mike" Lane, 66, formerly of Nicut, WV went to be with our heavenly father on May 24, 2019.

He was born on June 29th, 1952 to Ralph and Arlie Lane.

From a young child Mike suffered from a disabling disease which never stopped him from living life. He would ride ponies and his lawnmower to visit family and friends throughout Nicut.

Mike attended Beech Grove Baptist Church and would ride his mower to the front door each Sunday where he was greeted and welcomed by his church family.

He is survived by his brothers, Howard and Jean Lane, Everett "Danny" Lane, Charles and Delores Lane, Denzil and Nancy Lane, William "Paul" Lane, sister-in-law, Frances Lane, and sisters, Nancy and Bill Stemple, Ruth Morgan, and Brenda Davison.

His brothers and sisters along with his many nieces and nephews will miss him dearly and will hold close to their hearts the many wonderful memories they have with their brother and uncle.

Welcoming Mike to his heavenly home are his parents, Ralph and Arlie Lane, his brothers, James, Bud, Ronnie and his sister Jean.

A small memorial service will be held for Mike and his sister Jean Sears on Friday July 5th at 6:00 p.m. at Beech Grove Baptist Church, Nicut, WV with Pastor Richard Westfall officiating.