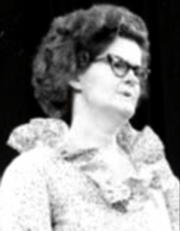 Phyllis M. Marks (Frashure) age 92 of Glenville WV, went home to be with the Lord on the evening of Saturday June 22, 2019 at the Genesis Health Care, Glenville Center, following an extended illness.

She was born June 5, 1927 in Gilmer County WV, daughter of the late Marion an Arlene Layfield Frashure.

Phyllis was a former employee of Glenville State College. In her spare time she enjoyed folk singing and storytelling. Participating at the West Virginia State Folk Festival, which she participated in since its beginning. Performing at the Augusta Festival and Charleston Culture Center. A lifelong member of the Glenville Church of Christ. She liked to thrift store shop, listen to the birds sing, and listen to her books on cassette tapes.

Her family was her true passion as she loved the family to gather at her home on Christmas Eve for the annual paper tear. Phyllis lived most of her life blind but that never seemed to stop her from doing anything she wanted. She was referred to by her loving family as the Great One and she loved spoiling her grandchildren and great grandchildren.

On June 18, 1943 she was untied in marriage to Jesse James Marks Sr. in Hancock County, WV, who then preceded her in death on July 9, 1997.

Surviving is her faithful companion "Lizzy", 1 daughter, Iris McCartney (French) of Parkersburg WV; 1 daughter in-law, Barbara Marks of Linn WV; and 1 son in-law, Jennings Law of Glenville; 7 grandchildren Crystal Miller (Russell) of Fairmont WV, Jesse Marks III (Lenora) of Linn, Ginger Law of Wilkesboro NC, Justin Marks (Becca) of Summersville WV, Tommy Marks (Alicia) of Glenville, Paula McCartney of Clovis CA, and Donna McCartney Curran (Ed) of Wichita KS; 11 great-grandchildren, and numerous nieces, nephews, and cousins.

Along with her parents and husband, Phyllis was proceeded in death by 1 daughter Phyllis Jane Law in 2010 and 2 sons Jesse James Marks Jr. in 2012 and Lafie Lynn Marks in 2017; 1 sister Anna Laura Thompson, and 2 brothers Earl Frashure and Roy "Bob" Frashure.

A funeral service will be conducted at the Glenville Church of Christ at 11:00 a.m. Friday, June 28, 2019 with speaker Evangelist Rick Beck. Burial will follow in the Sand Fork Cemetery. Friends will be received from 6:00-8:00 p.m. Thursday evening at the Glenville Church of Christ. Following graveside services a dinner is being prepared at the Church building and all are encouraged to attend and share in food and fellowship.

Ellyson Mortuary, Inc. is honored to assist the family of Phyllis M. Marks with arrangements.