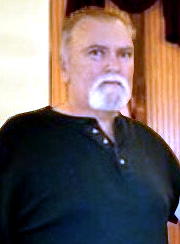 Mose Allen Chadwell, 59, of Normantown WV, departed his wonderful life due to a ongoing illness at Ruby Memorial Hospital, Morgantown, WV on May 25, 2019.

He is survived by his wife, C. Darlene Chadwell; son, Ethan Chadwell and wife Taylor Chadwell; two grandsons, Easton and Eli Chadwell, and one sister, Sharon Phillips.

Mose was born in Charleston WV on March 3, 1960 to James Raymond Chadwell, and Claudette Chadwell.

Mose enjoyed life to the fullest, and never let things get him down. He worked many years in the Oil and Gas industry. In his free time, he enjoyed fishing, hunting, and outdoor activities with his son. He attended Lower Steer Run Baptist Church, and accepted Jesus Christ as his savior.

A funeral service will be June 1, 2019 at Stump Funeral Home & Cremation, Arnoldsburg, WV at 11:00 a.m. with Pastor Mark Minney officiating. Visitation will be held one hour prior to the service. Interment will to follow at Boggs Cemetery, Normantown, WV.