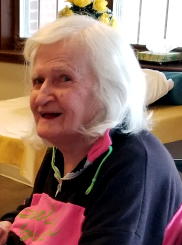 Greta Mae De Avila age 88 of Glenville WV, departed this life on Wednesday, May 22, 2019 at the Stonewall Jackson Memorial Hospital in Weston WV, following a sudden illness.

She was born May 16, 1931 in Tallahassee, Florida, and is survived by 2 daughters, Roberta Ann Striga of Vienna WV and Beverly Ann Meehan of Everett WA.

Also surviving are 2 grandchildren, Valerie Matteson of Glenville, and Jessica Meehan of Alaska, and 2 great-grandsons, Ethan and Jayse Matteson of Glenville.

Greta is preceded in death by 2 children, Teresa Carolyn De Avila and Vaughn Neil Henry; and 1 brother, Robert Hollman.

Greta spent most of her working life in the retail industry, having retired in 2009 from Sam's Club. In her spare time Greta enjoyed traveling to the beach, tending to her flowers, caring for animals, and has been described as an ornery social butterfly.

Greta's request for cremation has been honored and a celebration of life will be conducted at the Ellyson Mortuary, Inc. 2 Vanhorn Drive, Glenville, WV at 6:00 p.m. Wednesday, May 29, 2019 with Pastor Aaron Sligar officiating. Friends will be received from 5:00 to 6:00 p.m. Wednesday afternoon at the mortuary in Glenville.

Ellyson Mortuary, Inc. is honored to assist the family of Greta Mae De Avila with arrangements.