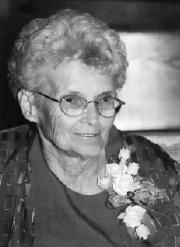 Doris Valentine Slack, 86, of Elizabeth, WV, passed away May 15, 2019.

She was born January 10, 1924 to the late Clarence and Lucy Bell Valentine. A graduate of Wirt County High School, she married the late Brooks Slack November 27, 1944, and was the mother of nine children.

Mrs. Slack was saved and baptized in 1938 and joined Two Ripple Baptist Church June 11, 1949. As a member of Two Ripple Baptist Church, she was a long time youth director and Sunday school teacher and for many years was a caretaker of the church and cemetery.

She was a member of 4-H for 11 years and a leader for 25 years, a 10 year member of American Legion Post 55 and 24 years as a member of VFW Auxiliary 6608. She loved gardening, canning and making quilts for family and neighbors. Most of all, she loved the fellowship of her loving family and church family.

In addition to her husband, parents and grandparents, Mrs. Slack was preceded in death by a daughter Kimberly, and two brothers and their wives Paul and Rachel Valentine of Wirt County and Roy and Marjorie Valentine of Seattle, WA.

She is survived by 3 sons, Larry Slack of Parkersburg, Roy Slack of Elizabeth and Paul Slack (Shirley) of Berkley Springs; 5 daughters, Karen Savage (Duane) of Parkersburg, Margie Allen (Roger) of Parkersburg, Joyce Kinemond (John) of Akron OH, Lucy Sprouse of Vienna, Kathy Gabriel of Myrtle Beach SC, and a son-in-law Buzz Grimm of Davisville; 19 grandchildren, 22 great grandchildren, 5 step-grandchildren and 2 great-great grandchildren; and a sister Ethel Rowley (Gilford) of Reedsville OH.

the funeral will be Saturday, May 18, at 11 a.m. at Two Ripple Baptist Church. Visitation will be Friday, May 17, from 6 pm to 8 pm at Matheny Whited Funeral Home in Elizabeth, WV and 1 hour prior to the funeral at the church.