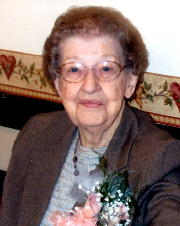 Phebe Ferguson Gumm, passed away May 12, 2019 at Minnie Hamilton Long Term Care Facility in Grantsville, WV.

She was born in Revere, WV, to the late Wiley and Modenna Martin Ferguson.

She is a member of Smithville Baptist Church. She was a retired rural mail carrier traveling the roads of Ritchie County and some Gilmer County in her Jeep delivering mail. When she retired, she loved going to gospel sings and to dinners with her friends. She liked to tell the other residents at the Long Term how she used to carry the mail on horseback.

Mrs. Gumm is survived by one daughter, Connie Badgett (Loy) of Orma, WV; one step-daughter, Ruby Bailey of Columbus; two granddaughters, Melanie Crawford (Jim) of Williamstown, and Malinda Gibson (Carlos) of Huntington; one sister, Vellanlee Gumm of Parkersburg; eighteen grandchildren; and several great-grandchildren and great-great-grandchildren.

She was preceded in death by her late husband Forrest Lake Gumm in 1971; three stepsons, Burl, Jennings and Denzil Gumm; one stepdaughter, Helen Gumm Rapp; six brothers, Stanley Martin, Isaac, Wilbert, Clifford, Carl and Bubby Ferguson; and four sisters, Blenda Bush, Muriel Goff, Susanne Cunningham and Naomi Grogg.

Funeral services will be held at 2 p.m., Thursday, May 16, 2019 at Raiguel Funeral Home, Harrisville. Burial will follow in the Hardman Chapel Cemetery, Smithville, WV. Friends may call at the funeral home Thursday from 11 a.m. until time of services.

Online condolences may be sent to the family at www.McCulloughRaiguel.com

The family would like to thank the staff and doctors at Minnie Hamilton for the excellent care they gave Phebe, especially the Long Term Staff.