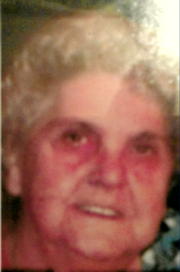 Ellen Marie Young age 83 of Sand Fork WV, departed this life at 10:47 p.m. Saturday, May 4, 2019 at the Ruby Memorial Hospital in Morgantown WV, following an extended illness.

She was born September 17, 1935 in Sutton WV, daughter of the late Stephen L. and Iva King Fincham.

Ellen was a homemaker who loved caring for her family. She is a former employee at Sunbridge Health Care, Glenville Center and Gilmer County Head Start. In her spare time, Ellen enjoyed socializing with others on Facebook, reading her Bible, attending church services, and she especially loved caring for her children, grandchildren, great-grandchildren, and great great-grandchildren.

On December 12, 1952 Ellen was united in marriage to Herbert F. Young who preceded her in death on October 30, 1991.

Surviving are 6 children, Debbie Posey of Normantown WV, Ilene Greenlief (Roger) of Stumptown WV, Kenny Young of Sand Fork, Steve Young of Illinois, Larry Young (Robin) of Dusk Camp WV, and Louise Ball (Robert) of Baldwin WV; 19 grandchildren, Chris Ball (Angel of Normantown, Shawn Ball Megan) of Dusk Camp, Tiffany Somerville (Taylor) of Linn WV, Ayla Meadows Tyler) of Dusk Camp, Jessica Montgomery (Mark) of Baldwin, Erica Dennison (David) of Glenville, Beverly McHenry (Doug) of Linn, Erik Butler of Florida, Zackariah Butler (Vanessa) of Florida, Mark Franklin (Christy) of Florida, Melinda Stump (James) of Linn, Mandie Franklin of Florida, Nicole Young (Allen) of Sand Fork, Samantha Young (Brandon) of Sand Fork, Lance Young of Sand Fork, Lance Young (Lauda) of Illinois, Lindsay Campos (Raymeo) of Illinois, Stanley Young of Florida, and Cynthia Malinowski (Justin) of Ohio.

Also surviving is her sister, Mary Harman (Bill) of Florida; 35 great-grandchildren; 2 great great-grandchildren; several nieces, nephews, cousins, and many other family and friends.

Along with her husband and parents, Ellen is preceded in death by her daughter, Rose Marie Butler on February 2, 1995.

A funeral service will be conducted at Ellyson Mortuary Inc., 2 Vanhorn Drive, Glenville WV, at 1:00 p.m. Friday, May 10, 2019 with Pastor Bryan Groves officiating. Burial will follow in the Sand Fork Cemetery in Sand Fork WV. Friends will be received from 11:00-1:00 p.m. Friday at the mortuary in Glenville.

Ellyson Mortuary, Inc. is honored to assist the family of Ellen Marie Young with arrangements.