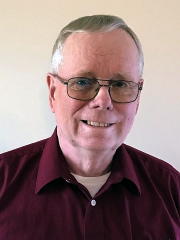 Paul Lakin Cummings, 69, of Walton, WV passed away Tuesday, April 9, 2019 on his farm on Paxton Ridge Road.

He was born December 6, 1949 at Spencer, WV to Lakin and the late Gatha Romine Cummings. In addition to his mother he was also preceded in death by an infant sister, Doris.

Paul was a 1967 graduate of Walton High School. He married his high school sweetheart, Avis (Susie) Helper Cummings on May 9, 1970. After high school, he attended Glenville State College, graduated from West Virginia University, and the West Virginia College of Graduate Studies. He also served 6 years in the National Guard Operating Engineers Unit of Spencer, WV. He began his teaching career at Magnolia High School, New Martinsville, WV in 1972 before returning to Roane County. He taught for 33 years as an agricultural education teacher and FFA Advisor at both Walton and Roane County High Schools. He retired from teaching to pursue his love of farming full time. When not on the farm he enjoyed traveling with Susie and spending time with his grandchildren. He considered his grandchildren to be the light of his life for they were his future.

He was a Leukemia cancer survivor. He was also a member of the WV Farm Bureau where he served on the board of directors. He was a former Roane County Board of Education member, and a lifetime member of the West Virginia Education Association. Paul was also a Christian, and a faithful attendant of the Mount Welcome Union Church where he taught Sunday School.

In addition to his wife and father he is survived by 3 children, Ben and Karen Cummings of Spencer, WV, Sara and Jeremy Stricklen, and Suzanne and Joe Rector all of Walton, WV. He had six grandchildren: Lakin Stricklen 15, Katie Cummings 14, Libby Stricklen 12, Kari Cummings 11, Hayden Rector 7, and Jonah Rector 5. He is also survived by four sisters: Alice (Frank) Tefft of Walker, WV, Joyce (Steve) Rogers of Spencer, WV, Lois (Bobby) Dent of Spencer, WV, and Karen Botkins of Ashville, North Carolina and two great aunts: Elsie Cummings and Garnet Raines, both of Spencer. In addition to family, he is survived by his special friend and farming buddy, Jack Vance.

Friends may call Friday, April 12, 2019 from 5 p.m. to 9 p.m. in the gymnasium at Walton Elementary Middle School, River Road, Walton. Funeral services will be held on Saturday, April 13, 2019 at 1 p.m. also at Walton Elementary Middle School. Friends may call on the day of the funeral two hours prior to the service. Burial will be on the family farm in the John Summers Cemetery, Paxton Ridge Road, Walton with the Reverend Larry Greathouse officiating.

The family would like to thank John H. Taylor Funeral Home, Spencer for their services.