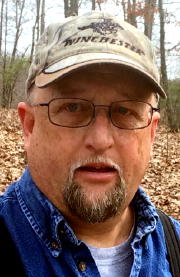 Barry Duane Lockhart, age 55, of Washington WV, departed this life on the morning of Tuesday, March 26, 2019 at the Camden Clark Memorial Hospital in Parkersburg WV, following a 2 month battle with cancer.

He was born May 22, 1963 in Parkersburg, son of Bernard and Betty Godfrey Lockhart of Washington, WV.

Barry is a graduate of Parkersburg South High School, class of 1981 and earned Associates Degrees in Applied Science and Applied Science: Mechanical Technology from WVU Parkersburg. He worked for Appalachian Log Structures, Inc, in Ripley as a Drafting Supervisor with 33 years experience. In his spare time, Barry was an avid hunter, who enjoyed all the activities associated with it. He also enjoyed camping, photography, and spending time with his family.

On August 1, 1992 Barry was united in marriage to Jonavieve Minear Lockhart, who survives at their Washington WV home.

Surviving is his loving son, Jared Lockhart of Lynchburg VA; his sister, Brenda Lockhart of Washington; his brother, Brent Lockhart and wife Carri of Oslo, Norway; 3 nephews, Noah, Haggin, and Eli Lockhart, and niece Landri Lockhart all of Norway.

A graveside service will be conducted at the Turner Cemetery on Middle Run Road, Lockney WV (Gilmer County) at 11:00 a.m. Saturday, March 30, 2019 with Pastor Tim Underwood officiating.

In lieu of flowers, the family requests donations be made to the American Cancer Society.

Ellyson Mortuary, Inc. is honored to assist the family of Barry Duane Lockhart with arrangements.