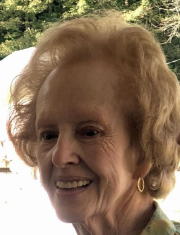 Norma Lynch Boggs, 93, of Charleston, W.Va., passed away on Sunday, March 24, 2019, peacefully at home. She was born on December 3, 1926, to the late Henry and Meryl Lynch of Millstone, W.Va.

She was a retired school secretary for Boone County Schools. Norma enjoyed spending time with her family and friends, watching PBS, working cross-word puzzles and playing cards.

In addition to her parents, Norma was preceded in death by her husband, Brenton Boggs; son, William "Bill" Boggs; and sisters, Patricia Laughlin and Betty Jo Lynch.

She is survived by her daughter-in-law, Barbara (David) Boggs - Omlor of Flowermound, Texas; grandson, Bryan (Trisha) Boggs of Charleston, W.Va.; her beloved granddaughters, Briana and Hanna Boggs; and her brother-in-law, Ron L. Laughlin of Charleston.

A celebration of Norma's life will be held at noon on Thursday, March 28, at Barlow Bonsall Funeral Home in Charleston, W.Va. Visitation will be from 11 a.m. to noon, with services immediately following the visitation. The burial will be at the Sand Ridge Cemetery in Millstone, W.Va., following the funeral services.