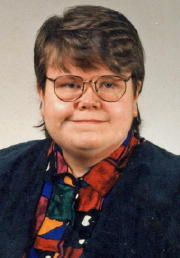 For I am now ready to be offered, and the time of my departure is at hand. I have fought a good fight, I have finished my course, I have kept the faith: Henceforth there is laid up for me a crown of righteousness, which the Lord, the righteous judge, shall give me at that day: and not to me only, but unto all them also that love his appearing. 2 Timothy 4:6-8 KJV.

Teresa Carol Monk, 46, of Walton, W.Va., went home to be with the Lord, Saturday, March 16, 2019.

She was born on April 13, 1972 to Kermit and Montie Carol Monk. She was blessed with a wonderful family, her sisters and brother-in-law, Melissa and Neil Smith, of Elkview, and Sarabeth Monk, of Walton; her niece and nephew, Hope and Aaron Smith, who she adored and spoiled. She was also blessed with a wonderful uncle who played a great part of her life, Mike Wolfe, of Elkview; and her rescue dog, Abbie, who she often referred to as Punky.

She was preceded in death by her grandparents, O'dell and Ada Monk, and Elbert and Mary Wolfe.

She was a 1990 graduate of Walton High School, a 1994 graduate of Wheeling Jesuit University, and a 1997 graduate of WVU School of Law. She was a member of the WV State Bar Association. She started her career as a public defender for Roane County. Later, she became self-employed and began a public defender career in Webster, Braxton, Gilmer, Clay, Calhoun, Jackson, and Roane Counties.

She loved her work, and was good at what she did. She was a member of Leatherwood Missionary Baptist Church. She had a hobby of cooking, cross stitching, painting and fishing. She never let her sickness become an excuse, and never let it disable her. She had a strong opinion on everything, and a little sass. Her body had grown tired, and Jesus found it time to call her home. There is one thing she would have wanted, and that is for you to prepare your life to meet her in Heaven.

A service will be held at 11 a.m., on Friday, March 22, at Hafer Funeral Home, with Pastor Jeff Underwood Officiating. Burial will follow at Monk Family Cemetery, in Leatherwood, W.Va.

Family will welcome visitors from 6 to 8 p.m., on Thursday, March 21, at the funeral home.

Online condolences may be shared at www.haferfuneralhome.net.

Hafer Funeral Home, 50 N. Pinch Road, Elkview, is assisting the family with arrangements.