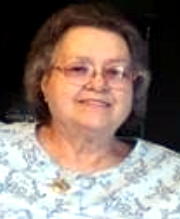 Ruby H. McCumbers, 79, of Palestine WV, went home to be with her Lord on March 17, 2019 at Camden Clark Memorial Hospital, Parkersburg WV.

She was born May 22, 1939, the daughter of the late Sussie Gaye Nicholas Tucker and Edward Tucker of Orma WV. She was preceded in death by her beloved husband of 51 years, Harry B. McCumbers. They were married December 11, 1955, by the Reverend Billie Schoolcraft.

Also preceding her in death were brothers, Homer Tucker, Oak Tucker, Hobert Tucker, Russell Tucker, Euell Tucker, and Paul Tucker; and sisters, Glady Sidwell, Lovell Wood, Edna Duncan and Pearl Shock.

Ruby will always be remembered as a loving mother, grandmother, great grandmother and friend. Her family meant everything to her and she lived her life as a shining example to them all.

She is survived by one brother Ottice Tucker of Orrville OH; six children, Dean and Kathy McCumbers of Palestine, Larry and Sandy McCumbers of Newark, Judy Paquette of Parkersburg, Jimmy McCumbers and Jackie Queen of Parkersburg, Peggy and Donnie Gant of Leroy, and Nancy and Chip Shaver of Parkersburg.

She is also survived by 13 grandchildren, Michael and Jaime McCumbers of Steubenville OH, Melissa McCumbers of Palestine, Erica McCumbers Lockhart and Justin Lockhart of Newark, Brian McCumbers and Kayley Gregg of Parkersburg, Katherine Harr of Hendersonville NC, Jessica James of Citra FL, Brandi Horrocks and Ben Fouse of Mineral Wells, Heather and Derek Slack of Palestine, Shauna and Martin Carpenter of Parkersburg, Nikki Shaver of Morgantown, Christie and John Shaffer of Mansfield OH, Joel and Noel Shaver of Pennsboro, and Brandon Matthess and Jarred Drennen both of Fairmont; 20 great grandchildren, Jack and Morgan McCumbers, Oliver Dean McCumbers, Jocelyn and Jaelyn McCumbers, Emma McCumbers, Kaylee Harr, Aiden and Daven Horrocks, Robert Fouse, Braelyn Tanner, Hadleigh Slack, Ruby Carpenter, Kylie Small, Tyler and Austin DeVaughn, Nicholas Shaffer, Aryhiana McQuigg, Raeleigh Shaver, and Aimee (Josh) Shriver; and one great-great granddaughter, Lamiyah Adkins.

Visitation will be Wednesday, March 20 from 4:00 to 8:00 p.m. and Thursday, March 21 from 11:00 a.m. to 1:00 p.m. the time of funeral services at the Matheny-Whited Funeral Home in Elizabeth, lead by Pastor Danny Schreckengost. Graveside services and interment will be at the Pisgah United Methodist Church Cemetery.