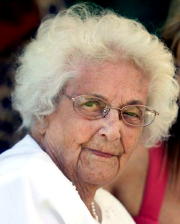 Eleanor Shock, 99, a lifelong resident of Normantown, WV died March 8, 2019 at Hubbard House in Charleston, WV following a short illness.

Eleanor was born October 19, 1919, the daughter of Marion Lee Brown and Oleta Miller Brown who preceded her in death. She is the last of Marion Lee Brown's 17 children. Eleanor married James Franklin Shock on December 27, 1939. James preceded her in death February 1981.

Eleanor is survived by three sons who are James Michael Shock (Sheri) Chapin, SC; George Kent Shock (Linda), Berkeley Springs, WV and Danny Joe Shock (Treza), Rosedale, WV. She is also survived by 5 grandchildren and 7 great grandchildren along with many nieces and nephews.

Eleanor was recognized upon her retirement by the United States Postal Service for 53 years of service. She also worked several years at Rubber Fabricators in Grantsville, WV. She had attended both Mt. Pisgah Baptist Church at Stumptown, WV and Dawson Baptist Church at Cedar Creek, WV. Eleanor was active in many organizations and Gilmer County community activities.

At the request of family, a celebration of life will be held at a later date. Interment will be at the Collins Cemetery at Stumptown, WV. Arrangements are in the care of Stump Funeral Home & Cremation, Inc. Grantsville, WV.