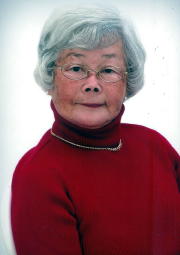 Mitsuko Paula Whipkey, 89, of Vienna, WV, formerly of Grantsville, WV and Riverdale, GA, died on February 18, 2019 in Marietta, OH. She was born on June 18, 1929 in Tokyo, Japan and was the daughter of the late Keikichi and Mito (Nakamura) Kobayashi.

While residing in Calhoun County, she was employed by Rubber Fabricators as a seamstress for the inflatable rafts and slides. She also worked at Calhoun General Hospital as a nurse's aide and an EMT, a position she dearly loved. After moving to Riverdale, she was employed by TDK Corp. as an inspector in quality control and by Costco.

Mitsuko loved to sew, knit, and crochet, but her favorite hobby was growing flowers of all kinds. She loved her family and always looked forward to gathering for special occasions such as reunions, weddings, graduations and holidays. She was a blessing to her family.

She is survived by her husband of 37 years, Baine Whipkey, of Alpharetta, GA; daughter, Paula and Alan Yoak, Vienna; sons, Michael and Phyllis Smith and Gary and Connie Smith, both of Grantsville, and Charles and Naomi Smith of Hayama-machi, Japan; stepchildren, Dane Whipkey, Marietta, GA, Charles Whipkey, and Lottie Grande, Roswell, GA; 11 grandchildren, Shannon, Todd, Dena, Tiffany, Nichole, Haley, Eric, Chris, Ashley, Lauren, Will, Jack, and Chase; 8 great-grandchildren, Sydney, Wesley, Dylan, Haden, Bodin, Aubryn, Rylan, Emersyn, Corey, and Trent; 2 great-great-grandchildren, Dylan II and Ellie.

Also surviving are 3 sisters, Mieko Sugawara, Yukie Aoki, and Yoshiko Tokita and a brother, Tomio Kobayashi, all of Japan.

In addition to her parents, she was preceded in death by 3 sisters, Kazuko Katsuyama, Yasuko Kikuchi, and Michiko Kawai, and by 6 brothers, Takamitsu, Shoji, Hiroaki, Toshio, Hanryo, and Shuji Kobayashi.

Memorial services will be held at 11:30 a.m. on Saturday, March 16, 2019 at Victory Baptist Church, Grantsville, WV with Pastor Steven Carter officiating. Visitation will be from 10:30 to 11:30 a.m.

Burial will follow at the Smith Family Cemetery on Kerby Ridge, near Hur, WV.

The family would like to thank the staff at Hannah's House for their care and support of Mitsuko and to thank Dwane Weekley, Larry and Roger of St. Joseph's Ambulance service.