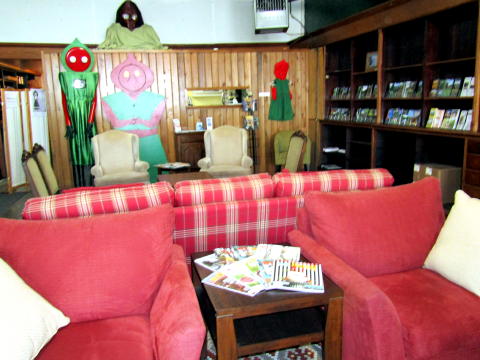 Museum has artifacts and info about 1952 event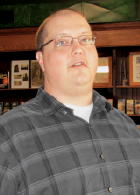 Calhoun native Andrew Smith, Director of the Braxton County Visitors Center, says the Flatwoods Monster has been an enigma that wouldn't die, once more popular in Japan and more recently the subject of TV movies and documentaries
Smith (left) says Braxton County has finally embraced the monster story and no longer afraid to boast about the 1952 event.
The county now has the Flatwoods Monster Museum on Main Street, full of everything related to "Braxie."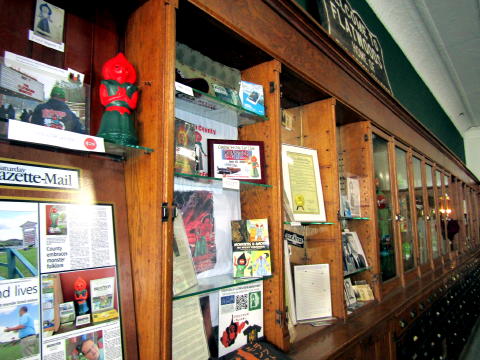 It happened at dusk on September 12, 1952. 32-year-old beautician Kathleen May, 17-year-old National Guardsman Gene Lemon, and five younger boys climbed a hill to see a "flying saucer" that had landed.
Instead they saw something horrifying. Standing roughly 10 feet tall, surrounded by a strange mist and stench, was a "monster" with a round, red face, eyes like searchlights, and a green body or suit with a cowl-like shape over its head.
Some of the witnesses said it had claws. Some said it was floating. Everybody ran away, and when others eventually returned to the site, all that remained were traces of the mist and stench. It was later theorized that the monster and its spaceship, alien to our atmosphere, had literally evaporated.
The Monster was seen for only a few seconds, by seven people, and has never been seen again. At the time, most of the people Flatwoods hoped it would vanish from memory as quickly as it had from West Virginia.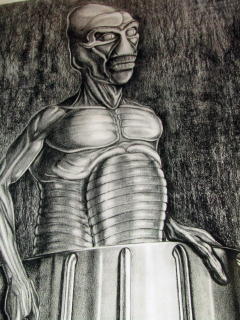 When Andrew Smith became director of the Braxton County Visitors Bureau, he said people would say, "I'm sick of hearing about the monster," a the common sentiment he recalled at the time.
But he knew that another West Virginia town, Point Pleasant, was enjoying tourism success with its monster, Mothman, and believed that Flatwoods' monster was at least as worthy of the public's affection.
Smith created the idea of large monster chairs which are scattered around Braxton County.
The only place in Flatwoods that hasn't embraced its monster heritage is the hilltop where it was originally seen. The property owners are leery of the Monster's renewed popularity, and tourists are forbidden.
Andrew hopes that he can eventually persuade them to see the light -- cast by the glowing eyes of Flatwoods' eerie, menacing, and now finally acceptable the monster.
Visit the Flatwoods Monster Museum located on Main Street in downtown Sutton, just two miles from Exit 62 on I-79. Displays include: one of a kind collections and artifacts, historic items, memorabilia, books, and more.
Admission is free. Novelty items, such as shirts, figures, stickers, shot glasses, and lanterns are available for purchase.
Hours of operation:
Monday - Friday: 9 a.m. to 5 p.m.
Weekends: 10 a.m. to 4 p.m.