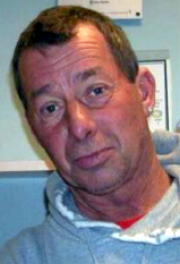 Thomas William Lawson 63, of Ripley, West Virginia, passed away Feb. 24, 2019 at Hubbard Hospice House of Charleston WV

He was born in South Weymouth, Massachusetts, the son of the late Harry B. and Ruth A. (Nash) Lawson.

He worked for several years an Auto Parts Salvage as a Equipment Operator.

He is survived by his wife Kim Marie Ryan Lawson; children, Robin Lawson of Brockton MA, Matthew Ryan of Attleboro MA, Jenna Lawson of Millwood WV, Thomas Lawson Jr. of Ripley WV, and Zachary Dylan Lawson of E. Bridgewater MA; 6 grandchildren, Matthew Ryan Jr., Kiarah Ryan, Avian Ryan, Bubba Lawson, Sissy Lawson and Kianah Ryan; brothers, James Lawson, Richard Lawson of FL, and Harry Lawson of Liberty NC; and one sister, Robin Lawson of Liberty NC.

In addition to his parents he was preceded in death by one brother, John Lawson.

There will be no services. Matheny Whited Funeral Home of Elizabeth WV assisted the family.