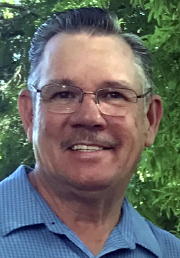 Kenneth "Mike" Putnam, 69, of Shock, WV, victoriously went to be with his Lord and Savior on February 22, 2019 while surrounded by his family.

Mike was born February 5, 1950 in Gassaway, WV, the son of the late Vena Putnam Clark and Marshall "Fletcher" Putnam.

Mike is preceded in death by his brother, Wetzel Putnam and sister Rachel (Putnam) Johnson. Surviving siblings include Van Putnam of Petroleum, WV; Dolores (Putnam) Wright of Rosedale, WV; Charlotte (Putnam) Frame of Wellington, OH.

Mike is survived by his loving wife of 50 years Darlene (Rudd) Putnam, and four children; Gary of Smithville, OH, John of Kenna, WV, Charles of Greenville, WV, and daughter Emily of Birch River, WV.

Mike and Darlene have eight grandchildren; Tiffany, Christopher, Caroline, Isaac, Andrew, Naomi, Austin, and Ronin.

Mike was the pastor of Millfork Community Church near Rosedale, WV. He loved teaching the Bible and was an avid bluegrass gospel singer and musician. He dedicated every day of his life as a living testimony to the power of Jesus Christ. He was admired across his community as a spiritual witness, handyman and friend. He could always be found helping his family, friends, and even strangers in any way he was needed to improve both their spiritual and daily lives. Mike played banjo, guitar, mandolin, bass, and produced two music albums as the lead member of the Putnam Family. He also enjoyed working in his garage, hunting with his boys, and most of all spending time with his family.

Services will be held at the Stump Funeral Home & Cremation, Inc., Arnoldsburg, WV on February 26, 2019. Visitation will be held from 10 a.m.-noon, with a funeral service at 12:00 p.m., officiated by Minister John Putnam. Burial will be held at the Rosedale Community Cemetery.

In lieu of a graveside service, a dinner will be provided for the family and friends by the Rosedale Senior Center at Rosedale, WV. Online condolences may be expressed at www.stumpfuneralhomes.com

The Putnam family would like to thank all of the friends and family who joined Mike in his valiant fight with Leukemia through prayer and support. Mike has won the ultimate Victory and is now in the presence of his Lord and Savior, Jesus Christ.