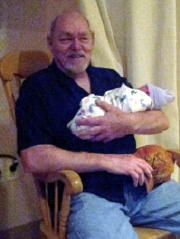 Chester Arthur 'Chet' Ellison, Jr., also, fondly known as 'Big-Bear' to his immediate family, passed away on his birthday, February 3, 2019.

Heaven's gates were opened to him, after a horrific three-year illness with Acute Myeloid Leukemia. He ultimately won that battle, only to unexpectedly succumb to MIRCA and Pneumonia.

He was a current resident of Middle Fork Road Reedy, W.Va., with plans to contribute to his community. Sadly, he was not able to fulfill those wishes. He was raised on Long Island, N.Y. he spent most of his life at residences in New London and Sutton, N.H., where he retired from his successful Plumbing and Heating Contractor business of forty years.

He was a high-ranking Mason, a generously-kind and loving man. Very religious all his life, he looked forward to meeting Jesus. He will be greatly missed by family and friends.

Born the son of pre-deceased Chester A. Ellison Sr. and Nancy Baumbach-Ellison, he is survived by his closest family of Reedy, W.Va., C'yann and Milena Jensen, daughter, Chantel Ellison, grandchildren, Aric and twins, Adeline and Odin, sister, Nancy Ellison of Fla., nieces, Maria Jones and Tami Aloi both of Fla, brother Pete Ellison of Long Island, N.Y. Other nieces include, Rachel Jensen and her loved family in Fl. As well-many other relatives and extended families across the USA.

In addition to his parents, he is pre-deceased by brothers, Herbie Ellison of Arkansas and Robert Ellison of Florida.

A private memorial service will be held for immediate family at the family home, Reedy, W.Va.