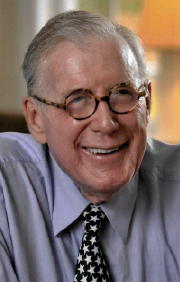 George A. Daugherty was born December 12, 1931, over a silent movie house in Mannington, West Virginia. He died peacefully at Hubbard Hospice House on February 3, 2019, surrounded by his family.

After graduation from West Virginia University and the WVU College of Law, George practiced law in West Virginia for over 50 years representing clients from every walk of life.

He was a proud member of WV Alpha Phi Kappa Psi fraternity, serving as District Archon from 1953-55. He was a member of Mountain Honorary. George was a Lieutenant in the U.S. Army and served in Korea as a JAG officer. He was former president of the WV Board of Law Examiners and director of the WV Lawyers Assistance Program.

He was a friend of Bill W and active in the recovery community for 39 years.

In addition to his work in law and recovery, George was an entertainer, toastmaster, songwriter, wit, and musician. George adopted the stage name "The Earl of Elkview" in 1970 and began appearing as a regular on the Capitol City Jamboree and Mountain Stage. As an actor, he performed in and produced many plays and musicals with the Charleston Light Opera Guild, Kanawha Players and the Pipestem Players. In 1980, he played his audio-visual musical tribute to America and West Virginia at the West Virginia Cultural Center to a standing room only audience and repeated this show all over America more than 3,000 times.

Upon the death of his dear friend A. James Manchin, George became West Virginia's most constant friend and promoter urging audiences, politicians and anyone who would listen to see and experience the beauty of our state and its people. An unabashed patriot, George made it his mission to celebrate and honor war veterans of every era in speeches, performances and personal visits.

George was the son of the late Albert C. and Ruth Reynolds Daugherty of Elkview, West Virginia. In addition to legions of dear cousins, he is survived by his former wife, Mary Jarvis Currence, and their children, Dick (Nancy) of Nitro, Nancy R. Daugherty of Washington, DC, Sallie (Byron Goodew) of South Charleston, and Thomas (Christine), of Charleston; beloved grandchildren Kiera, Devlin and Aidan Daugherty, and Jamie and Beth Davis and their children, Meredith and Brady of Mooresville, NC.

A celebration of George's life will be held Friday, February 8, with visiting hours from 5 p.m. until 7 p.m. and a memorial service at 7 p.m. at Barlow Bonsall Funeral Home, Charleston.

In lieu of flowers, donations to the Serenity Club of Dunbar, Hubbard Hospice House, or the George A. Daugherty Scholarship Fund to Benefit WVU Collegiate Recovery would be greatly appreciated.

You may send condolences to the family at www.barlowbonsall.com

Barlow Bonsall Funeral Home has been entrusted to handle the arrangements.