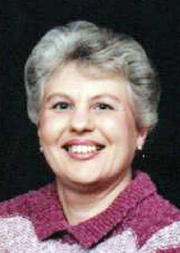 Linda M. Cogar, 75, of Gihon Rd, Parkersburg WV, went to be with her Jesus on January 23, 2019 following a brief illness.

She was born June 28, 1943, a daughter of the late Edward and Mildred Maxwell Cogar.

Linda attended Tanner School in Gilmer County. She was special needs, but excelled in other things. Linda enjoyed music, singing, coloring and flowers, especially African Violets. She loved all people and never met a stranger. Linda loved pets, especially her dog, Mojoe. He now sits in her chair waiting for her to come home.

Those left to cherish her memory are her brother and sister-in-law, John and Connie Cogar, with whom she made her home; her sister, Reginia Lewis of Ravenswood WV; five nephews, Terry and Tim Lewis, Daron, John and Shane Cogar who she adored; two nieces, Lisa and Belinda who were wrapped around her little finger; and many great nieces and nephews.

In addition to her parents, Linda was preceded in death by one brother, David K. Cogar.

Linda attended and was saved at Chestnut Grove Baptist Church. Memorial donations may be sent to the church in care of John Cogar.

A heartfelt thanks goes to Anthony Groggs and Gloria who kept her involved in gardening and fresh eggs. A special thanks goes to the Arbors for her exceptional care, especially Allison.

Visitation service held from 2-6 p.m. on Monday, January 28, 2019 at Lambert-Tatman Funeral Home, 2333 Pike St., south Parkersburg.