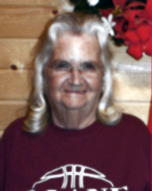 Freda Mae Parsons, 78 of Gandeeville, WV passed away on Sunday, January 13, 2019 at Ravenswood Village Nursing Home following an extended illness.

Born on June 16, 1940 in Harmony WV, she was preceded in death by her parents Herbert and Tressie Jones, one brother Jimmy Jones, and her daughter Robin Rae Parsons.

She was a lifetime member of the Wolf Creek Baptist Church and a homemaker. She loved being on the farm, caring for her animals, riding the tractor during hay cutting season, and fishing.

She is survived by her loving husband of 59 years, Sherman Parsons and three sons, Ricky (Dianna) of Gandeeville, Penny (Cathy) of Walton, and Tim of Gandeeville. She is also survived by three grandsons, Timothy II (Jessica) of Spencer, Aaron (Rachel) of Harrisville WV, and Bradley (Casey) of Charleston, and 4 great grandchildren, Noah, Raelynn, Brayden and Layne.

Service will be held on Wednesday, January 16th at 1:00 p.m. Visitation will be 1 hour prior at the TAYLOR-VANDALE FUNERAL HOME, Spencer with Pastor Arnold Shaffer officiating. Burial will be in the Ferrell Cemetery following the service.