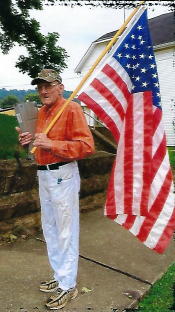 Thomas Jefferson Luzader (Tommy J), age 98 of 33 Gateway Lane Glenville, departed this life on Friday January 11, 2019 at 9:30 a.m. at Genesis Health Care Center following an extended illness.

Tommy was born September 12, 1920 in Glenville WV. He was the son of the late Raymond and Melva Danley Luzader.

On December 09, 1951 he was united in marriage to the late Wanda Gay Moyers Luzader who proceeded him in death on November 10, 2010. He was also proceeded in death by 6 brothers Roscoe, Danley, Carl, Raymond, Aaron and Jennings and 3 sisters AnnaBelle, Catherine and Evalene; and special sister-in-law Vonda "Pedro" Montgomery.

Tommy served in the United States Navy from 1942-1945. He then returned to his home town of Glenville to start his service to our county.

He retired from Glenville Utility with 20+ years of service. He also served as the Gilmer County Fire Chief starting in 1973. He was an EMT and the Emergency Services Director until the mid 90's.

Tommy having no children of his own considered the following nieces and nephews his children and beloved grandchildren, Pam Cutlip and husband Sam of Glenville, Jeff Montgomery and wife Patty of Sand Fork, Larry Frederick of Glenville, Chrissy Junkins and husband Kevin of Glenville, Patrick & Kayla Montgomery, Keighan & Colton Chewining, and Christopher and Maggie Jo Junkins. He is also survived by a host of other nieces and nephews, including special nieces, Sherry Luzader and Megan Luzader Dorsey.

In Tommy's spare time he loved to garden, play solitaire and talk about the good old days. You could most usually find him outside tinkering or just playing with his "grandchildren" Tommy had a love for life and love for people that will forever be remembered. He was a true civil servant!

Tommy's wishes to be cremated has been honored and a memorial service will be held at 12:30 p.m. on Saturday, January 19, 2019 at the Glenville First Baptist church with Reverend Kenny Fisher officiating at and burial will follow at Pisgah Cemetery. Friends may call at the church from 11:00-12:30 on Saturday.

Ellyson's Mortuary, Inc. of Glenville is honored to assist the family of Thomas J. Luzader with arrangements.