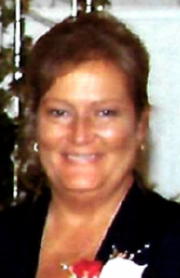 Joyce Ann Frashure, age 60 of Sheridan Street, Glenville WV, departed this life suddenly on the morning of Saturday, January 12, 2019 following a courageous battle with cancer.

She was born July 21, 1958 in Weston WV, daughter of the late Leo and Lizia Radcliff Sprouse.

Joyce was a homemaker, who loved caring for her family. She was a graduate of Gilmer County High School, class of 1975 and was an avid Gilmer County Titan Sports fan who loved cheering for her children and grandchildren anytime they played.

In her spare time, Joyce enjoyed baking cakes, crocheting, tending to her flower garden, working with crafts, but most of all she enjoyed her grandchildren. They have been the light of her life, and she loved spoiling each of them whenever possible.

On July 28, 1974 Joyce was united in marriage to Larry Joe Frashure, who survives at their Glenville home.

Surviving are 2 sons, Travis Frashure and wife Andrea of Frametown, and Joey Frashure and wife Amber of Glenville; 7 grandchildren, Jacob, Tyler and Emma Frashure, Chandler and Spencer Posey, and Bayley and Kendall Frashure; and 2 siblings, Leon Sprouse and wife Carol of Jane Lew and Teresa Dumendic of Glenville and husband John of Columbus OH.

Along with her parents, Joyce is preceded in death by her son, William D. "Billy" Frashure on December 6, 2004.

The family would like to take this opportunity to personally thank Joyce's caregiver and sister Teresa for the last 18 months. You have been a tremendous help and your love and compassion for your family is unmatched.

A funeral service will be conducted at the Ellyson Mortuary, Inc 2 Vanhorn Drive, Glenville WV at 11:00 a.m. Wednesday, January 16, 2019 with Rev. Kenny Fisher officiating. Burial will follow in the Rock Grove Cemetery near Linn WV. Friends will be received from 4-8 p.m. Tuesday evening at the mortuary in Glenville.

In lieu of flowers the family request memorial contributions be made in her name to the Glenville First Baptist Church Cancer Fund, PO Box 237, Glenville WV, 26351.

Ellyson Mortuary, Inc is honored to assist the family of Joyce Ann Frashure with arrangements.