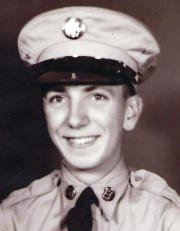 Kenneth Basil Alltop, 86, of Cox's Mills, WV, departed this life peacefully on the morning of Thursday, January 3, 2019 at his home with his loving wife Elise by his side.

He was born May 11, 1932 in Gilmer County WV, son of the late Dorsey and Stacy McHenry Alltop.

Kenneth was an over the road truck driver for most of his working life, having driven from coast to coast, countless times. He also drove truck in the oil fields and eventually was the daily van driver for the Gilmer County Senior Center in the 1990's.

Kenneth is a Methodist by faith and member of the Cox's Mills Methodist Church. In his spare time, Kenneth enjoyed watching westerns on TV, gardening, canning, spending time with family and friends, and enjoying the quiet life at home.

On May 29, 1975 Kenneth was united in marriage to Elise Grimes Alltop, who survives at their Cox's Mills home.

Surviving are 2 children, David Alltop and wife Lena of Ghent WV, and Margaret Alltop and companion Gary Gillispee of Gassaway WV; 1 step-son, Gerald Bragg Jr. and wife Becky of Daniels WV; 2 step-daughters, Sharon Zinn and husband Manley of Cox's Mills WV, and Shirley Cogar and husband Lee of Cox's Mills WV; and 1 brother, John Alltop and wife Patricia of Olcott NY.

Also surviving are 10 grandchildren, Regina Hall and husband Dustin of High Point NC, Stacey Alltop of Ashville NC, Kendrick Alltop who is currently serving in the United States Air Force, Ruth Smith and husband Kerry of Flatwoods WV, Danny Lee Smallwood Jr. of Flatwoods, and Jeffrey Bragg of Daniels WV, Shelly Mason and husband Nathanael of Auburn WV, Vada Woodford and husband Lance of Cox's Mills, Aimee Hartshorn and husband Clint of Cox's Mills, and James Greenlief of Troy WV; and 18 great grandchildren, Alexis Hall, Justin and Brenda Alltop, Makala and Tessa Miller, Lillie and Hallie Smiffin, Marissa and Austin Smallwood, Payton Grace Jordan, Kendrick Stackhouse, Anna Mason, Bristol and Ella Woodford, Kenley and Blake Hartshorn, Madison Westfall, and Morgan Kesyer.

Along with his parents, Kenneth is preceded in death by 1 granddaughter, Michelle Alltop, 2 great-grandchildren, Leia and Luke Hall, and 2 brothers, Dorsey and Shirley Alltop.

Kenneth's request for cremation has been honored and a Celebration of Life will be conducted at the Ellyson Mortuary, Inc., 2 Vanhorn Drive, Glenville, WV at 3:00 p.m. Sunday, January 20, 2019 with Pastor Bryan Groves officiating. Private burial will follow in the Horn Creek Cemetery near Cox's Mills at a later date. Friends will be received from 1-3 p.m. Sunday afternoon at the mortuary in Glenville.

Ellyson Mortuary, Inc. is honored to assist the family of Kenneth Basil Alltop with arrangements.