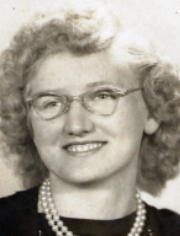 Esther Alice Murphy, age 90, of Glenville, WV passed away on January 1, 2019 at Stonewall Jackson Memorial Hospital in Weston, WV following a lengthy illness. She went peacefully home and entered the presence of her Savior.

Esther was born on December 26, 1928 in Glenville to Ira and Jesse (nee Kelley) Murphy. A lifelong resident of Gilmer County, Esther enjoyed spending time with the community and more recently had been living at the Glenville Center.

Esther graduated from Sand Fork High School in 1948 and entered Glenville State College later that year. For seven academic years Esther taught in one-room school houses in both Gilmer and Calhoun Counties where she developed a love for teaching and helping students. In 1967 she returned to her alma mater as an employee and retired from Glenville State College in 1991.

Esther was a kind, compassionate and generous person with an infectious laugh who always put her family first. She was the quintessential aunt who doted on her nephews and nieces and encouraged them to pursue their education. She made a profession of faith during the 1940's during a revival with T. N. Bennett, a circuit pastor, at Otterbein United Brethren Church now known as Otterbein United Methodist Church where she later served as a trustee.

She was an avid reader and enjoyed collecting books as well as reading her Bible. Esther was interested in genealogy and through her mother's family she traced her ancestry to John Turner Hacker, a soldier with the Virginia Militia during the American Revolution.

Later in life Esther developed a love of travel and joined the Gilmer County Senior Center on several trips with her favorite destination being the Caribbean. Esther was passionate about her vegetable garden, canning, cooking and delivering meals to others.

Esther was predeceased by her parents; siblings, Jack, Robert and Thomas; and niece, Rebecca (Rick) Corbit.

She is survived by her brother, Richard, of Canton, Ohio; nephews, Brian Murphy of Shaker Heights, Ohio, and David Murphy of Columbus, Ohio; and 5 great nephews and nieces, Christopher Murphy of Washington, D.C.; Alicia Murphy of Carlisle, Pennsylvania; Daniel (Kalene), Joseph, and Katie Corbit all of Massillon, Ohio.

Funeral services will be held on Saturday, January 12, 2019, at 12-noon at Ellyson Mortuary, 2 Vanhorn Drive, Glenville, WV with Pastor Bryan Groves officiating. Interment will be in Otterbein Cemetery. Friends may call from 10 a.m.-12 p.m. Saturday, two hours before the service. Arrangements are under the direction of Ellyson Mortuary, Inc.

In lieu of flowers the family suggests donations be made to the Gilmer County Senior Center, 720 North Lewis Street, Glenville, WV 26351.