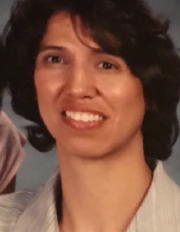 Julie Lynne Allison passed away at home on December 26, 2018 in Ripley, WV. She was born May 7, 1964 in Los Angeles, CA.

Julie was a 1982 graduate of Calhoun County High School and earned an associates in Medical Assisting from Alamance Community College in Graham, NC. She loved learning, volunteering, giving, taking care of others, and laughing. She especially loved spending time with her young nephews Landon and Spencer and niece Alyah. Prior to her decease, she volunteered regularly at a food bank in Ripley and at Jackson General Hospital where she received a 200-Hour volunteer pin.

Julie leaves behind her beloved daughter Jasmine Allison of Bridgeport WV and Murrells Inlet SC; her mother Lynda Jarvis of Chloe WV, her brother Jim Allison and wife Cindy of Denver CO, her sisters Judy Allison of Chloe, Carolyn Bowers and husband Mike of Burlington NC, Sandy Coleman and husband Larry of Beckley WV, her nephew Aaron Allison and wife Jennifer of Chloe, along with several other nieces, nephews, and friends. Julie was preceded in death by her infant daughter Meredith Brooke Allison and father Okey Jarvis, "Jr".

Graveside service and interment will be held on Saturday January 5, 2019 at 1:00 pm at the Minnora Cemetery in Calhoun County WV conducted by Stump Funeral Home & Cremation, Inc. of Arnoldsburg WV and officiated by her dear friend Karen Al-Chacar. The family will receive friends after the service at her mother's residence on the farm.

Condolence may be offered online at www.stumpfuneralhomes.com. In lieu of flowers, gifts are to be given to the Sustain Ministry at Trinity Worship Center, 3157 South Church Street, Burlington NC 27215, a ministry near and dear to Julie and Jasmine's heart in their home church. Please earmark your gift "In Memory of Julie Allison".