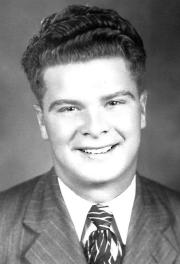 Denzil E. Echard, 88 of Parkersburg, WV passed away on December 18, 2018 at CCMC. He was born in Mellin, WV, Ritchie County on August 10, 1930 the oldest son of the late Earl Echard and Goldie Toothman.

Denzil worked at Weirton Steel in Stubenville, WV. Later he was drafted in to the United States Army where he was a Medical Technician and served overseas with the 325th Hospital Unit in West Germany during the Korean War. Upon returning from the service he worked for O'Ames for a short time before being hired by E. I. DuPont where he worked as a Chemical Operator in the Teflon Department for 29 years.

After retirement from DuPont he was a transportation rep for various area dealerships.

He is survived by his wife of 68 years, Louise Echard; his children Elaine Emrick (Lance) of Washington WV, Victor Echard (Judy) of Little Hocking OH, Jodie Stines of Vincent OH (Fiancee Jeff James) and Craig Echard (Wendi) of Little Hocking OH; 11 grandchildren, Tyrell and Drew Emrick, Janette Walker, Alicia Morgan, Vanessa Echard, Kyle Echard, Wesley Burrows, Lindsey Smith, Jessica Stines, Dustin Echard and Miranda Echard; 15 great grandchildren; his brothers Mark and David Echard and sister Kathryn Adams. In addition to his parents he was proceeded in death by his sisters, Reba Riffle and Carolyn Bartlett; brothers, Wayne and Steven Echard; and an infant son Rodney Echard.

Denzil was a member of the First Apostolic Sunrise Church of Mellin WV.

He was a good provider, father and loved his family. He will be greatly missed.

The funeral will be held at 1:00 p.m. on Friday, December 21st, 2018 at the Matheny Whited Funeral Home in Elizabeth WV, with visitation from 11:00 a.m. until the time of service, with Reverend Timothy Hopkins and Reverend Alan Adams officiating, burial will follow at the KOP cemetery in Elizabeth WV.