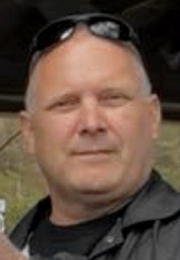 Gary Wayne Smarr, 53 of Glenville WV, departed this life on Monday, December 10, 2018 at the Ruby Memorial Hospital in Morgantown following a sudden illness.

He was born April 23, 1965 in Braxton County, son of Dora Reed Smarr of Glenville, and the late Murl Junior Smarr.

Gary was a graduate of Gilmer County High School, Class of 1984 and worked construction for many years having been employed by Cain Contracting and Country Side Construction. In the year 2000, Gary started working security for Glenville State College where he would remain for the next 18 years. On August 26, 2005 he successfully completed the training to become a certified police officer in the state of West Virginia.

In his spare time, Gary enjoyed spending time with his family and friends, spoiling his grandkids whenever possible, hunting, playing music, working on small construction jobs, caring for his classic cars, and attending Appalachian Cruiser Car Club functions. He is the current treasurer of the organization and also a founding member. Gary took great pride in his cars and could chat about automobiles, motorcycles, hunting, and many other subjects all day long.

On June 20, 1987 Gary was united in marriage to Lisa Bush Smarr, who survives at their Glenville home.

Along with his wife and mother, Gary is survived by his son, Kenneth "Kenny" Smarr of Glenville; 2 grandchildren, Garrett and Charlotte Smarr of Glenville; and 6 siblings, Donna Fox and husband John of Glenville, Brandy Williams of Longview TX; John Smarr and wife Katina of Dusk Camp WV, Lisa D. Smarr of Parkersburg WV, Melissa Francis and husband Shawn of Barberton OH, and William Smarr of Sand Fork WV.

Also surviving are 2 uncles, Ronnie Smarr and wife Rosie of Linn WV, and Jimmy Smarr and wife Rachel of Buckhannon WV; 1 aunt, Shirley Townsend of Glenville, and a host of nieces, nephews, cousins, and other family and friends.

Along with his father, Gary is preceded in death by his daughter-in-law, Cecilia "Nicole" Jackson Smarr.

Gary's request for cremation has been honored and a Celebration of Life will be conducted at the Ellyson Mortuary, Inc 2 Vanhorn Drive, Glenville, WV at 3:00 p.m. Sunday, December 16, 2018 with Pastor Dwight Goff officiating. Friends will be received from 12 noon-3:00 p.m. Sunday afternoon at the Mortuary in Glenville.

Following services there will be a dinner prepared in Gary's honor at the Camden Flats Baptist Church in Glenville. All are encouraged to attend and share in food and fellowship.

Ellyson Mortuary, Inc. is honored to assist the family of Gary Wayne Smarr with arrangements.