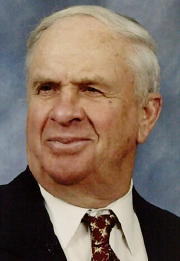 Lacy 'Brooks' Norman, 82, of New River, Arizona passed away suddenly on November 25, 2018 in Phoenix, Arizona.

Born in Shock, West Virginia, he was the eldest son to Escue and Edna (Lambert) Norman. In addition to his parents, he is preceded in death by a brother, Jerry, and sisters Nina Jean and Glenna Miller.

He was an Army veteran serving in Korea. Prior to his service, he graduated from the National Hardwood Lumber Association Inspection School and began working as a buyer in the import/export lumber industry. In 1972, he opened his first lumber company, Norman Lumber, with 2 yard locations selling both logs and lumber. He moved and expanded his business in 1977 adding 3 sawmills. After selling the company in 1986 and a brief retirement, he returned to the industry in 1989 opening Trumbull County Dry Kilns selling both retail and wholesale kiln dried lumber, nationally and internationally. His career extended over 40 years.

A life time hunter he enjoyed the hunt but treasured the camaraderie he shared with his "hunting buddies". He was an avid reader of western novels and was excited to be living in the west where many of those stories were set. He loved auctions, garage sales and negotiating a good deal. He was very active in his church and served as an elder at the Windham and Ravenna Church of Christ for over 25 years. Outside of his immense love for his family, serving was one of his most treasured accomplishments.

He leaves behind his wife of 62 years, Carolyn (Miller) Norman; and son Jonathan of Streetsboro, Ohio and daughter Carrie (Troy) Murray of Anthem, Arizona; his sisters Lela Keims of Garrett, Pennsylvania, Kate (George) Miller, Patty (Gene) Miller and brother Dale (Sheila) Norman all of Stumptown, WV; brothers-in law Marvin (Caroline) Miller of Spencer, WV and Charles Morrison of Delaware, Ohio.

Calling hours will take place on Tuesday, December 11, 2018; from 4-6 p.m followed by a Celebration of Life at 6 p.m. at the Ravenna Church of Christ, 3897 Summit Road, Ravenna, Ohio with Terry Smith and Bill Hopkins officiating. An additional service will take place at the Steer Creek Church of Christ, 3466 Rosedale Road, Stumptown, WV on Saturday, December 15, 2018 at 10 a.m. with Gene Miller officiating.

In lieu of flowers, those who so desire may make a donation "in memorial to Brooks Norman" to: Ohio Valley University, 1 Campus View Drive, Vienna, WV 26105.