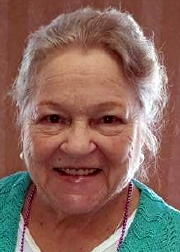 Lulu Elaine Sprouse Morris 82 of Cox's Mills, WV, formerly of Normantown, WV, went to be with her Lord and Savior, Jesus Christ on Thursday, November 29, 2018 at her residence on Garfield Run Road with her loving husband and daughters by her side.

She was born February 24, 1936 in Lockney, WV, daughter of the late Edgar Lytle and Hazel Grimes Sprouse.

In 1959 Elaine met the love of her life at a bakery, where she was employed in Belpre, OH. On June 11th of that year they were united in marriage and she enjoyed 59 years of marriage to Roy Morris Jr. who survives at their Cox's Mills Home.

After the birth of her youngest child, Elaine enrolled at Glenville State College where she earned a degree in teaching. She started her teaching career at Spencer Elementary School in 1971 and after 1 year found a job at Burnsville Elementary School, which was closer to the family home on Dusk Camp. Elaine would go on to teach at Sand Fork and Normantown Elementary Schools before her retirement in 1998.

Elaine and Roy spent much of their retirement life on the road. They were known to be gallivanting around the community late into the night. They got to fulfill a lifelong dream by driving to the west coast of the United States and seeing all the sites between there and West Virginia. They also had many road trips to Georgia to visit their daughter, with their last trip in July of 2018.

Elaine was a Baptist by faith and member of the Dawson Baptist Church. In her spare time, Elaine enjoyed caring for all her animals, homemaking, gardening, cooking, spending time with family and friends, and spoiling her grandchildren and great grandchildren whenever possible.

Surviving are 3 daughters, Mary Frye and husband Tony of Cox's Mills WV, Rhonda Roland and husband Jeff of Ranger GA, and Stephanie James and husband Doug of Roanoke WV; 15 grandchildren, Michelle Greenwood (Adam) of Snellville GA, Ronald Lee Morris of Loganville GA, Melissa Ulysse (Josue) of Lawrenceville GA, Heather Murphy and Haley Murphy of Calhoun GA, Kirk Murphy of NY, Dustin Murphy (Carrie) of Ball Ground GA, David Frye and Brandi Frye of Cox's Mills WV, Rob James of Fairmont WV, Shirania James and Samantha Sevcik of Weston WV, and Alex, John and Kira James of Roanoke WV; and 11 great-grandchildren, Ethan, Alex, Jamie Greenwood all of Snellville GA, LJ, Jasmine, and Miah all of Lawrenceville GA, Rowen and Eden Murphy of Jasper GA, Lula Kernea, and Wyatt Murphy of Calhoun GA, and Laurel Murphy of Ball Ground GA.

She is also survived by several sisters and brothers: Janice Hendershot of Sand Fork, Verle Sprouse of Normantown, Corlis (Randy) Stump of Normantown, Eileen (Mike) Richardson of Spencer WV, Janette (Dave) Ramezan of Sand Fork WV, Sharon (Doyle) Zirkle of Mabie WV, Stephen (Carol) Sprouse, Kenneth Sprouse and Colin Sprouse all of Normantown WV; 2 sisters-in-law, Marty Morris and Shirley Morris of Marietta OH; and numerous nieces, nephews, cousins, great nieces, great nephews, and other family and friends, all of whom she loved very much.

Along with her parents, Elaine is preceded in death by 2 children, Scott Edgar and Ronald Lee Morris; brothers, Delmas and Roger Sprouse, infant brother, Calvin Leon Sprouse; and sisters, Betty Jenkins and Arlene Carol Sprouse.

A funeral service will be conducted at the Ellyson Mortuary, Inc. 2 Vanhorn Drive, Glenville WV at 2:00 p.m. Sunday, December 2, 2018 with Elder Richard Westfall and Elder Mike Richardson officiating. Burial will follow in the Turner Cemetery near Lockney WV. Friends will be received from 5-8 p.m. Saturday evening at the mortuary in Glenville.

Ellyson Mortuary, Inc. is honored to assist the family of Lulu Elaine Morris with arrangements.