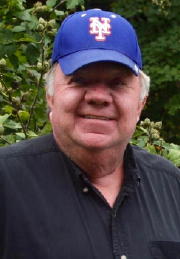 Steve Bradley Hughes, 70, aka, "Governor" of Wilsie WV was born on March 17, 1948. He was born on St. Patrick's Day and had the gift of gab. He was an ole picker who loved to barter, horse trade, deer hunt, and loved to spend time with friends and family. Steve went to join God's Heavenly Choir on Friday, November 16, 2018.

Steve was a great singer and had a band called the Steve Hughes Band. They played at the Moose, VFW Lodges and festivals all over the state, including Braxton County Fair, Gassaway Days, Braxton County Regatta, Woodchoppers, and even played for Governor Gaston Caperton plus many, many more. He was owner and operator of S&S Sales in Wilsie, worked at Fruehoff Trailers, B&G Mobile Homes, and Clendenin Lumber. He also was the van driver for Braxton County Senior Center and he retired from WV Department of Highways.

Left behind to cherish his memory is his wife of 20 years, Janice; children, Penny Ann Dean of Milton, FL, Kim Rollyson of Wilsie, Amy Slaughter (Andy) of Flatwoods; stepchildren, Tim White (Leslie) of Birch River, Christina Tonkin (Paul) of Bridgeport, Laura Rexroad (Duane) of Sutton; nine grandchildren; two great-grandchildren; sisters, Betty Miller (Ronnie) of Frametown, Linda Minney (Randy) of Shock; brother, Milton Hughes (Jackie) of Gassaway; also survived by several nieces and nephews.

Steve was preceded in death by his first wife, Susie Hughes; parents, Jasper and Pauline Hughes; sisters, Yvonna Stricklen, Pam Malcomb and four infant siblings.

Funeral service will be 1 p.m. Monday, November 19, 2018 at Richard M. Roach Funeral Home, Gassaway with Reverend Rich Demastus officiating. Interment will be in the Steve Hughes Cemetery, Wilsie.

Friends may call two hours prior to service at the funeral home.

Words of comfort and condolences may be extended to the family at &nbsp' www.roachfuneralhome.com

The family would like to give special thanks to Braxton EMS, Frametown Fire Department, and Senior Helpers, Patty Duffield and Brenda Melbauer.