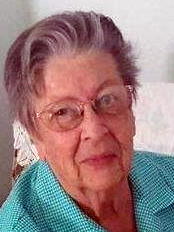 Carol E. Kimble 83 of Glenville, WV departed this life suddenly on Wednesday, November 7, 2018 at her residence, following a short illness.

She was born June 13, 1935 in Rosedale WV, daughter of the late Trader and Thelma Ferrell Tallman.

Carol was a homemaker and florist for most of her working life. She was the co-owner and operator of the Dash of Spice Greenhouse and Florist near Glenville with 25 plus years experience. In her spare time, Carol enjoyed sewing, bird watching, and she loved working on crafts and flower arrangements.

Carol was a member of the Order of the Eastern Star, and current treasurer of the Senior Citizens Satellite Club. Carol is a Christian by faith who loved caring for her family, and she would spoil her grandchildren and great-grandsons whenever possible.

On August 18, 1951 Carol was united in marriage to Berl Kimble, who preceded her in death on July 14, 2009.

Surviving are 2 daughters, Beth Dorsey and husband David of Wise VA; and Jan Beach and husband Thim of Vero Beach FL; and 4 siblings, Connie Heitzman of Sistersville WV, Charlotte Allen of Spencer WV, Tammy Pritt of Huntington WV, and Bill Tallman and wife Francine of Wilsee WV.

Also surviving are 5 grandchildren, Terri and Erin Dorsey, Kelly Ruff, Tim "T.C." Beach, and Tiffany Kimble, 8 great-grandsons, a foster daughter, Arleta Davis and husband Gerald of Glenville, and close personnel friend, Ronal "Barney" Bonnett of Glenville.

Along with her parents and husband, Carol is preceded in death by her son Frank L. Kimble and 2 siblings, Sharon Frame and Danny Tallman.

A funeral service will be conducted at the Ellyson Mortuary, Inc 2 Vanhorn Drive, Glenville WV at 1:00 p.m. Monday, November 12, 2018 with Pastor Bryan Groves officiating. Burial will follow in the Pleasant Hill Cemetery near Grantsville WV. Friends will be received from 11-1 Monday at the mortuary in Glenville.

In lieu of flowers the family request memorial contributions be made to the Cedar Creek Senior Satellite Center or the WV Caring (Hospice) of Burnsville.

Ellyson Mortuary, Inc is honored to assist the family of Carol E. Kimble with arrangements.