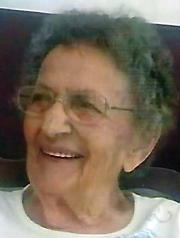 Lula Irene Bush, 95 of Cox's Mills, WV departed this life on Wednesday evening, October 3, 2018 at the Genesis Health Care, Glenville Center.

She was born November 19, 1922 in Weston WV, daughter of the late Ellet and Mary Westfall White.

In addition to life on the farm and raising 4 children, Irene worked as an aid at the Weston State Hospital, WV Glass Factory in Weston, and Kinney Shoe Factory in Glenville. In her spare time, Irene enjoyed gardening, reading, caring for her pets and barn cats, spending time with family and friends, and caring for her children and grandchildren.

On November 10, 1955 Irene was united in marriage to George Asa Bush who preceded her in death on July 18, 2007.

Surviving are 3 children, Karen Lay and husband Barry of Glenville, WV; Ruth Ann Butcher of Jane Lew, WV; and Gary Bush of Cox's Mills, WV; and daughter-in-law, Susan Butcher of Glenville. Also surviving are several grandchildren, great-grandchildren, and great-great grandchildren.

Along with her husband and parents, Irene is preceded in death by her first husband, Allen Butcher, son Hugh Allen Butcher, and daughter-in-law, Dina Bush.

A funeral service will be conducted at the Ellyson Mortuary, Inc 2 Vanhorn Drive, Glenville, WV at 2:00 pm, Sunday, October 7, 2018 with Pastor Bryan Groves officiating. Burial will follow in the Weston Masonic Cemetery. Friends will be received from 12-2 pm Sunday afternoon at the mortuary in Glenville.

In lieu of flowers the family requests memorial contributions be made in Irene's honor to the Alice Cemetery, 943 Mineral Road, Glenville, WV 26351.

Ellyson Mortuary, Inc is honored to assist the family of Lula Irene Bush with arrangements.