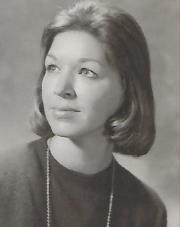 Judith "Judy" Carolyn Buckley Rich, age 79, of Glenville, West Virginia passed peacefully at her home on September 27, 2018, with Harry, her husband of 54 years, by her side.

She was born in Ashland, Kentucky, on December 22, 1938, the daughter of Samuel and Mary Musen Buckley.

Judy was a 1956 graduate of Ashland High School. She earned her BA in English at Union College in Barboursville, Kentucky and her MA in Theater from the University of Kentucky. She was employed at West Virginia Public Radio as a Traffic Director and editor of AirPlay, a monthly radio publication. She also worked as a journalist and editor at the Glenville Democrat where she won state awards in journalism. She retired from the FBI in Clarksburg, after working as a researcher and writer for the National Instant Criminal Background Check System (NICS).

Judy was avid reader and late in life developed a love for baseball. She was especially fond of the pitchers Tim Lincecum and Noah Syndergaard. Her real passion was always journalism, but she made time to work as many crossword puzzles as possible. She had a great love of animals, and shared that love with all who knew her.

She is survived by her husband Harry, son David and his wife Christy of Inverness, Florida, and daughter Rebecca Young and her husband Neal of Alum Bridge, West Virginia. She is also survived by her grandchildren Dante, Ethan, Kevin, James, Brian, Adam, and Allison.

An informal gathering will be held Saturday, October 6, 2018, at 5:00 p.m., at the Ellyson Mortuary, Inc., 2 Vanhorn Dr., Glenville, WV. A light menu will be provided. A celebration of Judy's life will begin at 6:00 p.m. by sharing from those in attendance.

In lieu of flowers, donations may be made in Judy's name to the Humane Society of the United States or the World Wildlife Foundation.