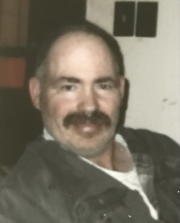 Michael E. Williamson 60 of Palestine WV, went home to be with the Lord Monday, September 24, 2018.

He was the son of the late Martin E .and Naomi (Exline) Williamson.

He was a 1976 graduate of Wirt County High School, and worked for 10 years for the Carpenters Union Local 132 of Charleston. Mike loved farming, fishing and his pets.

He is survived by his sister Sharon Williamson of Palestine; brother-in-law Mike Lovell; sister-in-law Angela Williamson; niece Brittany Sneed; nephew Michael Gross; and several aunts, uncles and cousins.

In addition to his parents he was preceded in death by his brother, Jim Williamson and sister, Naomi Lovell.

Services will be 2:00 pm Wednesday, September 26, 2018 at Matheny Whited Funeral Home with the Pastor Savas Miltiades officiating. Visitation will be 2 hours prior to the service. Interment will be at Bethesda Baptist (Thorn Addition) of Palestine WV.