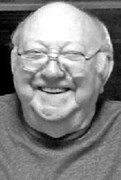 Tommy "Tuck" Starcher, 81 of Stow, Ohio, died September 4, 2018.

He was born in Calhoun, West Virginia, he was a Stow resident since 1965 and retired from Chrysler in 2002 after 37 years of service.

He was preceded in death by his wife, Kathy. He is survived by sons, Tommy (Tammy) and Timmy; grandsons, Alan and TommyLee; sister, Marg Baggett; brother, Jim (Chris) Starcher, and many nieces, nephews, and cousins.

Services and burial will be held Thursday, September 13th at 1 p.m. at Silver Springs Cemetery. He was extremely proud of his family, and loved watching the Indians and westerns.

Arrangements by Redmon Funeral Home of Stow, Ohio.