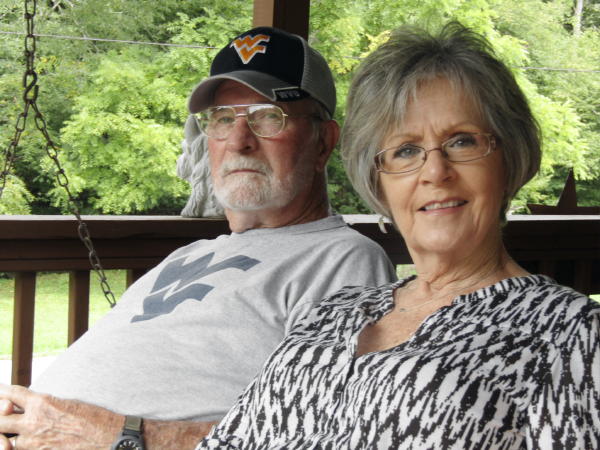 Glendon and wife Alicia Hopkins Davisson "watching grass
grow" on Sears Run where they have raised two children
By Bob Weaver
SEPT. 2018 - "The Davisson's had a work gene that wouldn't quit, from daylight to dark. We all learned labor. They knew how to make a nickel and save a nickel," said Glendon Davisson, who lives with his wife in their retirement home om Sears Run, Minnora.
Glendon lives at the location where he was born with his five siblings to Earl (1904-1990) and Zelma Deweese (1910-1968) Davisson, not far from the homestead of his grandparents James Iden and Arlie Rinehart Davisson, deep in a Sears Run hollow, first coming to Calhoun from Braxton in the early 1900s.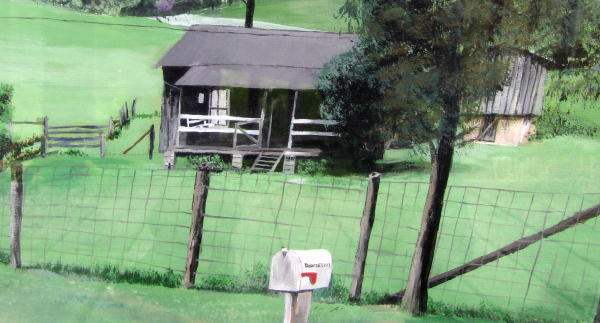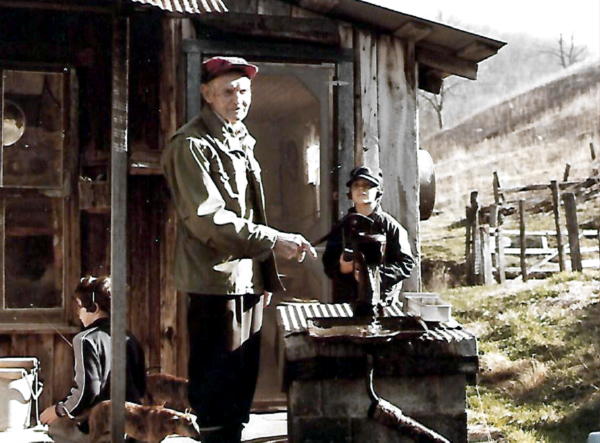 Earl Davisson's original two room house on Sears Run,
Earl with grandchildren on back porch pumping water
Glendon Davisson said his` original house was Jenny Lind with two rooms, a large bedroom and a living room, his dad adding an addition on the back which was a kitchen and dining room. The large bedroom was later divided into two smaller bedrooms. There was also a bed in the living room. Six children were born in this house, four boys and two girls. Around 1945 a cellar and cellar house were constructed and the oldest boys moved in there.
His brother Neal described their dad (Earl) as a man with strong work ethics, expecting the same from his children, working from daylight until dark every day but Sunday. He was described as stern, fair, honest and "had little time nor patience for foolishness."
The cash crop was raising sheep, always having a milk cow and getting fresh milk and eggs daily, and hogs that were butchered in the winter.
"We grew up poor but didn't know it because everybody was the same. We always had plenty to eat but little or no money. We had no running water, electricity or telephone for many years." said Davisson.
He said the children left the farm at a relatively early in age to seek employment with the work ethic instilled. "None of us are millionaires, but we have all done quite well. Three sons spent time in the military with two of them, Neal and Glendon retiring from service."
"Growing up on Sears Run, it was not unusual to have 15-20 kids show up and go to the woods to play or picnic usually on Mule Knob (Calhoun's highest mountain) or some other hilltop. Swinging on grapevines, playing in the woods, making up games and making our own toys was often our means of entertainment. But we spent many hours planting and hoeing corn, cutting filth, plowing fields and gathering nuts and berries around the farm."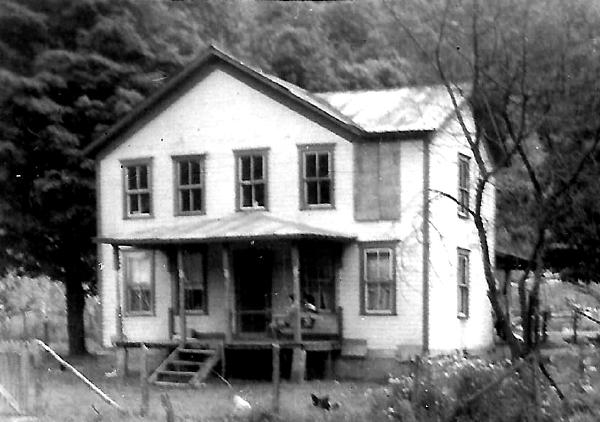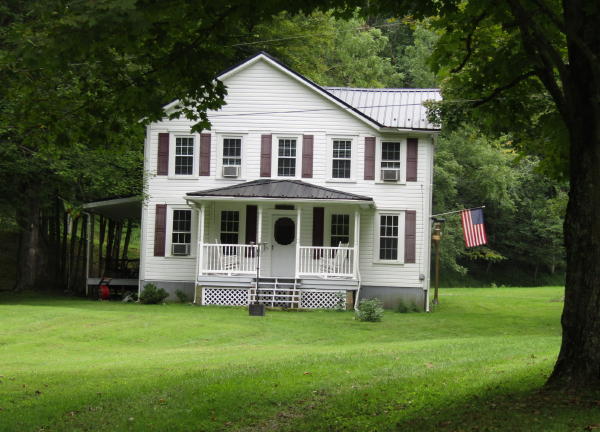 Original James Iden Davisson homestead and update house on Sears Run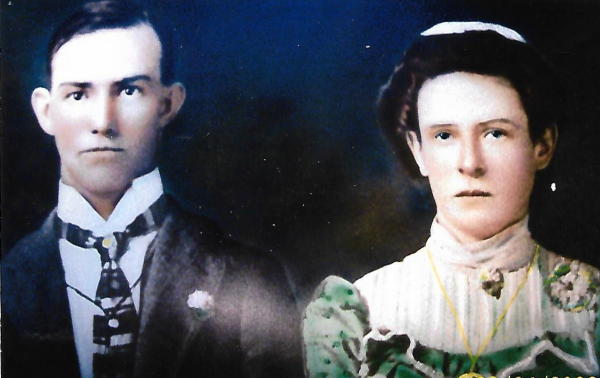 James Iden and Arlie Rinehart Davis moved to Sears Run in early
1900, where they would have 10 children (likely wedding photo)
The original James Iden Davidson (1878-1958) and his wife Arlie Rinehart Davisson (1887-1949) moved from Strange Creek, Braxton County, to Sears Run in the early 20th Century to built a rather stately farm house for its time. James Iden was the son of George I. and Sarah Elizabeth Marrow Davisson.
They had 10 children in the homestead house, which has been purchased and remodeled by a Charleston surgeon.
"My grandmother Arlie was definitely the boss of the family," said Glendon Davisson, who recalled a story about the day she died in 1949.
"She and some family members took me to Parkersburg to see a doctor, and returning through Spencer she insisted the car stop, stating she had some business to do," he said.
The family argued they needed to get home, with Arlie getting out of the car and saying she would get a taxi home, the family reluctantly going ahead.
After returning home that night in a taxi, the woman died, they then learning she had gone to a Spencer funeral home to make her burial arrangements.
"She was always in charge, right to the end," said Glendon.
"All of the farms on Sears Run have grown up now but ours is still a working farm for cattle. Our evenings are often spent sitting on the porch swing looking up on the hills and watching the cattle graze and watching the grass grow," he concluded.